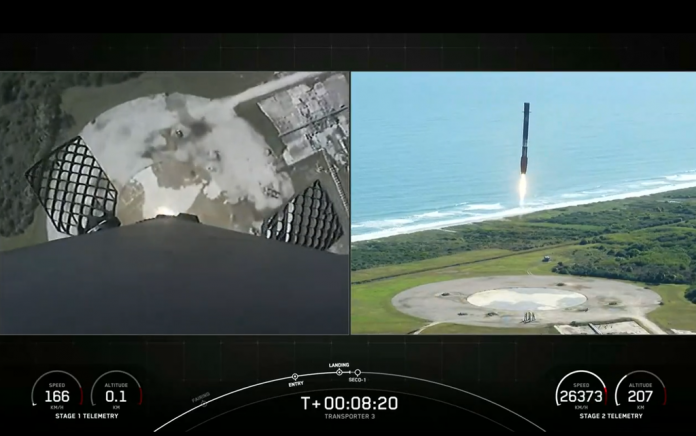 The Transporter-3 mission was launched by SpaceX on Thursday. A Falcon 9 rocket contributed to the mission success. The rocket carried a variety of small satellites for a diverse group of companies into low earth orbit.
The Transporter-3 mission was a dedicated rideshare mission. 
The Transporter-3 mission took off from the Space Launch Complex 40 at Cape Canaveral Space Force Station in Florida. The stage one rocket returned to base as planned within nine minutes. It successfully landed at Landing Zone 1 at Cape Canaveral Space Force Station. 
Videos of the liftoff were shared online. Short clips of the rideshare deployment and the Falcon's landing were also posted on Twitter.
Last week SpaceX deployed 49 Starlink satellites into low Earth orbit. The launch site was the John F. Kennedy Space Center in Florida.
SpaceX CEO Elon Musk announced that in 2021 the space company completed 31 diverse mission launches. And in 2020 they racked up 26 missions. 
Multiple companies participate in Transporter-3 mission
It was the 10th launch using the two-stage Falcon 9 spacecraft. And SpaceX claims that the miniaturized satellites will be used by future commercial and government enterprises including Microsats, CubeSats,  PocketQubes, and other orbital transfer vehicles.