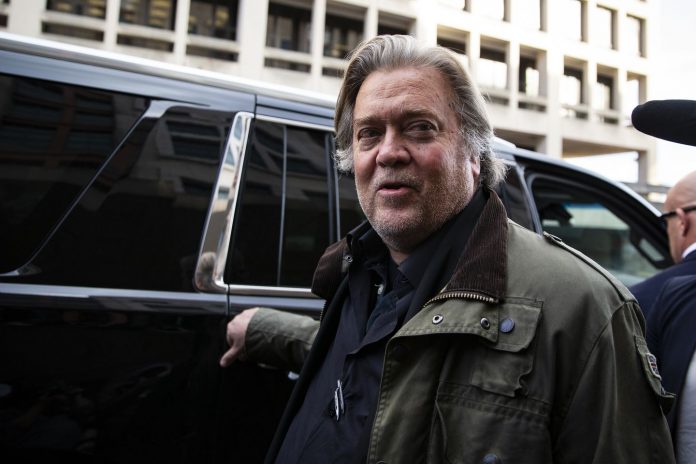 Steve Bannon, an ally of former President Donald Trump, surrendered to the Federal Bureau of Investigation (FBI) on Monday after a federal grand jury indicted him for refusing to cooperate with the House Select Committee investigating the January 6 U.S. Capitol insurrection.
On Friday, a federal grand jury charged Bannon, who previously served as Trump's White House strategist,  with two counts of contempt of Congress. One count involves his refusal to appear for a deposition. Another involves his refusal to produce documents.
On September 23, 2021, the House Select Committee issued a subpoena to Bannon to produce documents and testify about Trump supporters' efforts that led to the deadly Capitol attack.
Bannon reportedly talked to Trump on December 30, 2020, and urged him to focus his efforts on January 6. Additionally, it was reported that Bannon attended a meeting with Trump allies at the Willard Hotel on January 5, 2021. The meeting w s part of an effort to convince members of Congress to stop the certification of Biden's victory on January 6. He was also quoted saying that day, "[a]ll Hell is going to break loose tomorrow."
On Monday morning, Before turning himself in at the FBI Washington field office,  Bannon told his supporters, "We're taking down the Biden regime. I want you guys to stay focused, stay on message. Remember, signal, not noise. This is all noise, that's signal."
In the afternoon he appeared before Federal Magistrate Judge Robin Meriweather and faced the criminal contempt charges against him. He did not enter a plea. The judge released him without bail but ordered him to return to court on Thursday for his arraignment before U.S. District Judge Carl Nichols.
Each charge of contempt of Congress carries a minimum sentence of 30 days and a maximum of one year in jail, plus a monetary penalty of $100 to $1,000.
The House Select Committee's chairman Rep. Bernie Thompson (D-MS) and vice-chairman Liz Cheney (R-WY) said on Friday, "Steve Bannon's indictment should send a clear message to anyone who thinks they can ignore the Select Committee or try to stonewall our investigation: no one is above the law. We will not hesitate to use the tools at our disposal to get the information we need."
——————————
Have a story you want USA Herald to cover? Submit a tip here and if we think it's newsworthy, we'll follow up on it.
Want to contribute a story? We also accept article submissions – check out our writer's guidelines here.