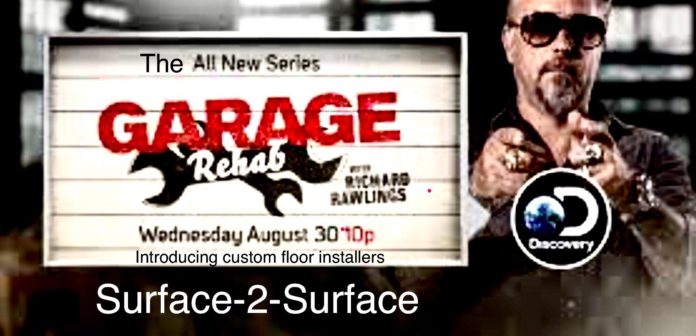 Surface2Surface has been selected to provide their extensive expertise in the installation of their high-end Architectural flooring products for the brand-new show "Garage Rehab" with Richard Rawlings which airs on the Discovery Channel every Wednesday night 9:00 CST
ABOUT THE SHOW
Richard Rawlings and his team — including Russell J. Holmes, project manager, and Chris Stephens, garage designer — and introducing Surface2Surface the premier Architectural concrete resurfacing and specialty Epoxy flooring company — travel the country to find shops that need help. In each episode, Rawlings takes over a shop, making all decisions for the business as he works to revamp and revitalize the enterprise using his entrepreneurial savvy, deep knowledge of the auto industry and marketing skills to transform the struggling garages into profitable businesses.
Holmes, a construction expert with more than 20 years of experience who saw his own father lose a family business, is tasked with getting Rawlings' rehabs done on time and on budget. Stephens, a shop owner specializing in restoring vintage European cars, is responsible for taking Rawlings' vision for the shop and implementing the design from the ground up. Brothers Keith and Danny Kimberlin represent Surface2Surface on the show and work closely with Russell Holmes during the design and implementation phase of the flooring process.
"The Kimberlin Bros" (as they are known), transform the floors into virtual works of art on each of the episodes and are gaining national recognition for their brilliant designs and virtually flawless delivery. Garage Rehab is sure to be around for a long time and as it grows in popularity, the amazing flooring designs and related products installed by Surface2Surface are sure to continue being a major and exciting part of the weekly reveal. 
Surface2Surface is a nationwide provider of Overlay Technologies diversified concrete resurfacing & Epoxy flooring systems. Featuring the world's greatest 3/8″ High-Definition Stamped Concrete overlay system which amazingly can be applied over any existing stable surface.
Surface2Surface also provides products offered by Concrete Solutions (a Rhino Linings company) which are featured on Season 1 of "Garage Rehab".
"Providing premium high-end architectural flooring design options at an affordable price is our goal" says Keith Kimberlin (President of S2S), "all that, while saving our customers up to 70% off the cost of typical traditional flooring options is pretty exciting stuff."
With millions of square feet installed nationwide to date, Surface2Surface leads the decorative concrete industry in quality, service and integrity.