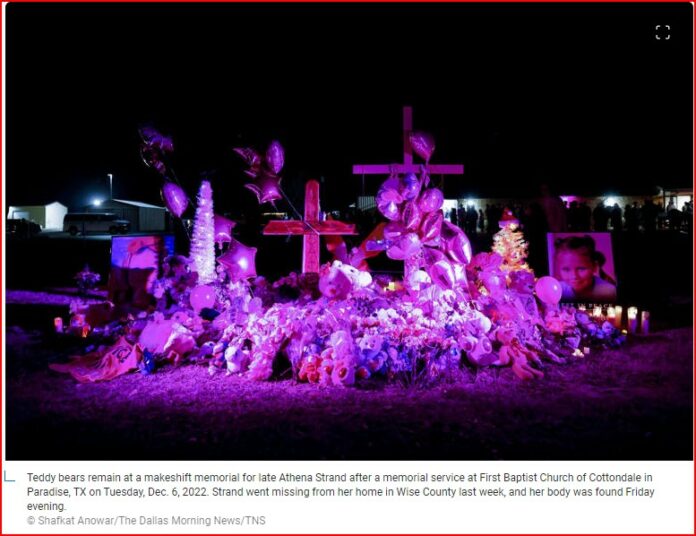 On Tuesday night, Maitlyn Gandy, the mother of Athena Strand spoke at the candlelight memorial for her murdered child. Thousands attended the gathering to say goodbye and celebrate Athena Strand. And they sat on the ground at the event.
The event took place outside of Cottondale Baptist Church in Paradise, Texas. This was the same church that organized the 2-day search for Athena. The 7-year-old was abducted and killed by a contract Federal Express driver who delivered a package to her home. 
Athena's favorite color was pink. And many of the crowd of thousands wore pink or brought pink flowers. The grief was palatable in rural Wise County.
Wise County Judge J.D. Clark also held a vigil outside the county courthouse. He asked for prayers to light the darkness surrounding the child's death.
Pink balloons were tied onto traffic signs and power lines along state highways into the town's streets. Her name was painted in pink on a fence.
Mom speaks out at candlelight memorial 
Athena's mom who lives in Oklahoma, came to Texas when her daughter disappeared. The parents are divorced, and Athena was visiting her dad and stepmom when she was kidnapped.