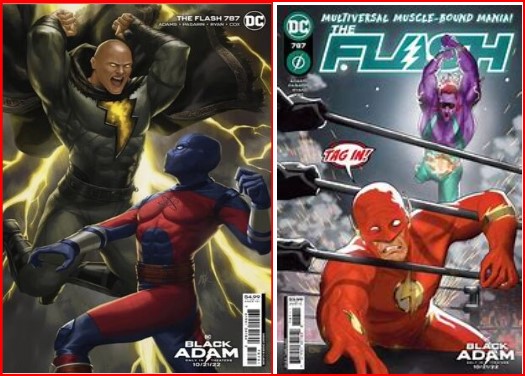 The latest offering of The Flash #787 is the first time DC readers will see the competitive and colorful Multiversal Wrestling League or WAM. The intergalactic league of wrestlers is a flashback to the U.S. World Wrestling Federation now known as World Wrestling Entertainment.
Sean Gribbon with CBR (Comic Book Resources) gives Multi-verse fans and Flash aficionados a sneak peek at The Flash #787 which is due out Monday.
, The comic will introduce readers to a brand-new sport. Wrestling Across the Multiverse (WAM) is a new concept that is expected to eventually translate to the big screen.
New characters Omega-Bam-Man, Commander Power Tower, and Kriegmeister 10 will join the Scarlet Speedster aka Wally West, and the Flash on a new adventure.
SMASH ADAMS CHALLENGES PRO WRESTLERS TO MATCH FOR THE MULTIVERSAL BELT!

Alright #flashfamily tag your favorite (or not favorite) #wrestler you'd like Smash to Bam Slam! Tag it #flash787 this weekend and let's see where we go! pic.twitter.com/siaHxafUM3

— Jeremy Adams ⚡️ (@spacekicker) October 14, 2022
The Flash #787 preview
The comic is written by Jeremy Adams and inked by Fernando Pasarin and Matt Ryan. Taurin Clark created cover art with variant cover art from George Kambadais.  And the Black Adam movie variant cover was done by EJIKURE.