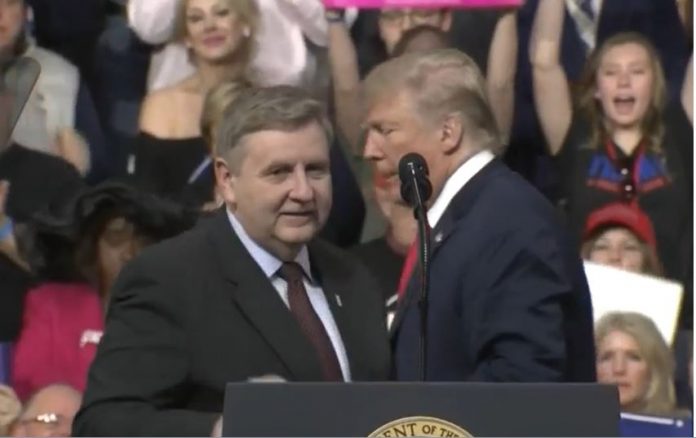 President Donald Trump went to Pennsylvania on Saturday and campaigned for GOP special election candidate Rick Saccone. However, the President privately trashed Saccone as a "weak" candidate, according to a report from Axios citing four sources.
Saccone is running for Congress to represent the 18th congressional district of Pennsylvania. The state is set to hold a special election for the district on Tuesday, March 13.
The district was previously held by Republican Rep. Tim Murphy, who decided to not seek re-election. In October last year, Murphy admitted to an extramarital affair. His mistress alleged that he asked her to have an abortion, which contradicts his pro-life views.
Political observers noted that Pres. Trump did not say much about Saccone during the rally in Pennsylvania.  According to sources, the President left for the rally thinking that Saccone is mediocre.
During the rally, Pres. Trump asked his supporters to vote for Saccone. He said the GOP candidate is a special man and "should win easily" in the district. The President defeated Hillary Clinton by 20 points in the district. He added, "The world is watching, I hate to put pressure on you, Rick."
A previous report from Politico indicated that other Republican leaders also think Saccone as deeply underwhelming. Rep. Steve Stivers, the House GOP campaign chief told him to start pulling his weight.
Democratic candidate Lamb is beating Saccone by 6 points
The Republican leadership admitted that Democratic candidate Conor Lamb is stronger than Saccone. Lamb surpassed his opponent in fundraising. Therefore, he has more money to communicate his message effectively to voters.
On Monday, a day before the special election, a new Monmouth University poll showed that Lamb is leading by 6 points. He obtained a majority of the vote with 51% compared with Saccone's 45%. A third party candidate gained 1% while 3% are still undecided.