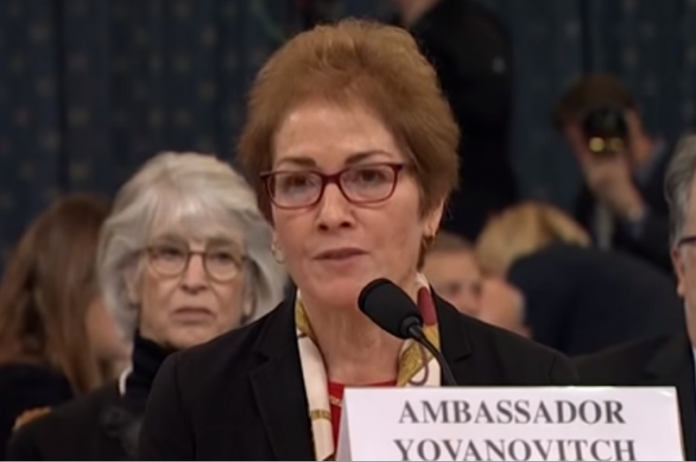 President Donald Trump attacked Marie Yovanovitch, the former U.S. Ambassador to Ukraine, while she was testifying during the House impeachment inquiry on Friday.
Yovanovitch is a career diplomat and highly regarded for her job in fighting corruption in Ukraine. She is the third witness to testify publicly in the impeachment inquiry, which is focused on Trump's July 25 phone call with Ukrainian Pres. Volodymyr Zelensky, whom he asked to investigate former Vice President and 2020 presidential candidate Joe Biden and his son, Hunter.
Yovanovitch says "unofficial back channels" undermines U.S. policy against corruption
In her testimony, Yovanovitch told House impeachment investigators that Trump's "unofficial back channels" undermined the U.S. policy against corruption in Ukraine.
She noted that the President's personal attorney Rudy Guiliani led the smear campaign against her based on allegations from "individuals, who apparently felt stymied by our efforts to promote stated U.S. policy against corruption."  The smear campaign led Trump to abruptly remove her as Ambassador to Ukraine.
According to her, "Although, then and now, I have always understood that I served at the pleasure of the President. I still find it difficult to comprehend that foreign and private interests were able to undermine U.S. interests in this way. Individuals…were able to successfully conduct a campaign of disinformation against a sitting Ambassador, using unofficial back channels."
She added that the Department of State knew that these individuals shared false allegations with the President and convinced him to oust her.
Yovanovitch said, "If our chief representative is kneecapped, it limits our effectiveness to safeguard the vital national security interests of the United States… Our Ukraine policy has been thrown into disarray and shady interests the world over have learned how little it takes to remove an American Ambassador who does not give them what they want."
During the hearing, the former Ambassador told lawmakers that she felt "terrible" that her career was ended abruptly due to baseless allegations. She shook her head and closed her eyes while recalling the events.
House Democrats may include witness intimidation in the articles of impeachment
At that moment, Trump posted a tweet attacking her record as a diplomat. He wrote, "Everywhere Marie Yovanovitch went turned bad. She started off in Somalia, how did that go? Then fast forward to Ukraine, where the new Ukrainian President spoke unfavorably about her in my second phone call with him. It is a U.S. President's absolute right to appoint ambassadors."
House Intelligence Committee Chairman Adam Schiff (D-California) told Yovanovitch that the Trump is attacking her on Twitter and gave her the chance to respond.
Schiff said, "Now the President in real time is attacking you. What effect do you think that has on other witnesses' willingness to come forward and expose wrongdoing?"
She responded, "It's very intimidating. I can't speak to what the President is trying to do, but I think the effect is to be intimidating."
Schiff then told the former U.S. ambassador that they take witness intimidation "very seriously."
House Majority Whip James Clyburn (D-South Carolina) commented that they may include the President's witness intimidation in the articles of impeachment. Rep. Eric Swalwell (D-California) shared the same view. He believes that there is a "strong evidence" Trump is intimidating witness.