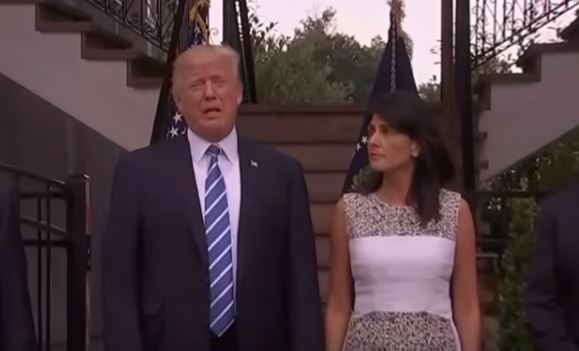 President Donald Trump is reportedly mad with U.S. Ambassador to United Nations Nikki Haley because of her recent comments regarding the allegations of sexual misconduct against him.
The #MeToo Movement's spotlight is now focused on Trump after some of his accusers decided to speak out again. They are now demanding the Congress to investigate the President's previous sexual misconduct. At least 16 women accused Trump of sexual assault or sexual harassment.
On Monday, the Associated Press (AP) reported that Trump was angry with Haley's comments regarding his accusers.
Two persons familiar with the President's views told AP that over the past days, Trump has become more furious that the allegations against him returned. According to them, Trump is telling his associates that accusations are false.
During a press briefing, White House Press Secretary Sarah Huckabee Sanders said, "Look, as the President said himself, he thinks it's a good thing that women are coming forward."
In addition, Sanders said, Trump also "feels strongly that a mere allegation shouldn't determine the course."  She reiterated, "The American people knew this and voted for the president. And we feel like we're ready to move forward in that process."                           
A cultural ship is happening in the U.S.
on Sunday, Ambassador Haley told CBS News that it is time to start bringing a "conscience" to the issue regarding the treatment of women in the workplace.  The U.S. is experiencing a "cultural shift" wherein powerful men in entertainment and politics have fallen due to sex scandals.
When asked about the cultural change, Haley said she is "incredibly proud of the women who have come forward. I'm proud of their strength. I'm proud of their courage."
The ambassador's comment came after Rep. John Conyers, Jr., Sen. Al Franken, and Sen. Trent Franks resigned. The three lawmakers are facing allegations of sexual misconduct.
Haley says women have every right to speak up
In response to the question about the same allegations against Trump, Haley said, Women who accuse anyone should be heard. They should be heard and they should be dealt with."
Additionally, the ambassador stressed, "I think we heard from them prior to the election. And I think any woman who has felt violated or felt mistreated in any way, they have every right to speak up."