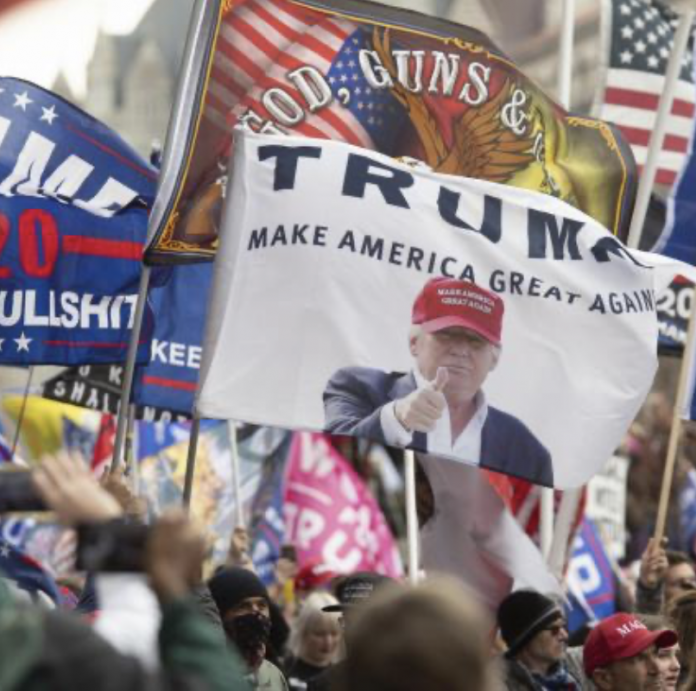 Yesterday, the U.S. Supreme Court ruled that it wouldn't hear the election lawsuit initiated by Texas and backed by at least 18 other states. The highest court in the land also made the determination that the Lone Star State lacked the "standing" for the suit it attempted to bring forward.
The Supreme Court's ruling marks yet another example of the legal system throwing out election challenges submitted by Trump's attorneys and GOP members. The rejection of the Texas lawsuit also triggered a significant backlash from conservatives and President Trump himself.
This morning, Trump supporters began taking to the streets in Washington D.C. to hold another Stop the Steal rally in protest against the current election outcome.
The latest Stop the Steal rally in Washington D.C.
Stop the Steal rallies took place in various parts of the nation's capital. Trump supporters were seen outside of the Justice Department, U.S. Supreme Court, and Capitol Hill. Loyalists to the 45th president dressed up in Trump attire, carried pro-Trump and USA flags, and otherwise protested.
Stop the Steal rallies additionally included remarks from multiple conservative speakers. The recently pardoned and former Gen. Mike Flynn also delivered some statements to passionate Trump supporters. Flynn declared that the country remains in a "spiritual battle" for America's heart and soul.
During midday, the Marine One helicopter also flew above Washington D.C.'s National Mall while transporting President Trump. The brief display was well-received by Trump supporters who cheered as the president flew above the demonstration.
What comes next in the 2020 presidential election?
Current Stop the Steal demonstrations are taking place days before the Electoral College gathers on Monday to formally declare a winner of the 2020 presidential election.
Thus far, states' certification of their election results are complete; meanwhile, legal attempts to overturn Biden's wins in certain states have not rendered success. All things considered, the Electoral College appears all but set to officially vote for Joe Biden as the winner of this year's presidential election.
Earlier on Saturday, President Trump reiterated that fraud and illegal votes have tainted the election process. He also told supporters on Twitter that the legal fight over the 2020 race continues.