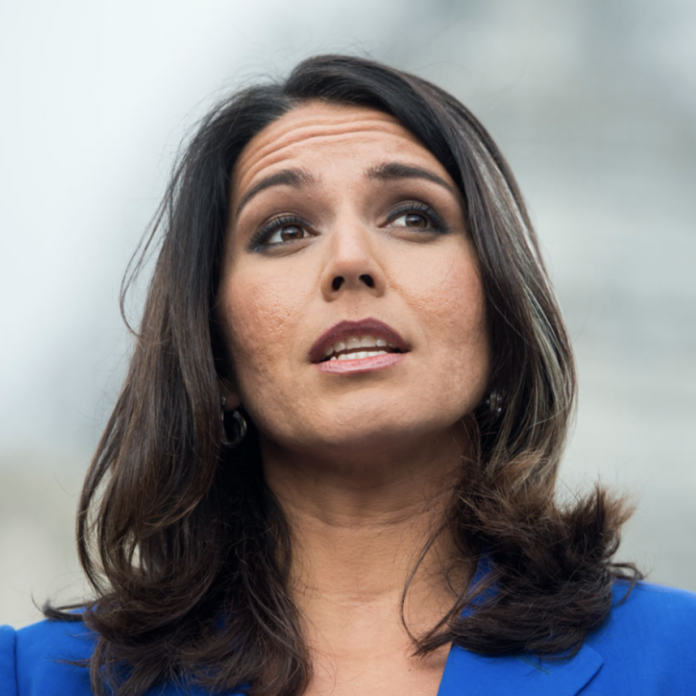 Yesterday, failed presidential candidate Hillary Clinton accused 2020 Democrat Tulsi Gabbard of being "groomed" by the Russians. Clinton's remarks came during talks with the Campaign HQ podcast; she caused quite a stir by alleging that "a bunch of sites and bots" are supporting Gabbard, who she deemed as a "favorite of the Russians."
Shortly after Clinton's statements, Tulsi Gabbard fired back. Gabbard slammed Clinton for being a "queen of warmongers" and the "personification of the rot that has sickened the Democratic Party." Finally, Gabbard urged Clinton not to "cowardly hide behind proxies" and "join the race directly."
On Friday night, Gabbard appeared on Fox News to speak with host Tucker Carlson about Clinton's attack on her.
Everything You Need to Know About Gabbard's Fox News Interview
When speaking with Carlson, Gabbard touched upon a series of issues. In essence, the 2020 Democrat stated that Clinton knows that she can't control Gabbard or her campaign.
"Ultimately she knows she can't control me. I stand against everything that she represents and if I'm elected president, if I'm the Democratic nominee and elected president she will not be able to control me. She won't be able to manipulate me. She won't be able to continue to work from behind the curtains."
Tulsi Gabbard responds to Hillary Clinton comments implying that Gabbard is a Democratic presidential hopeful being "groomed" by Russia to run as a third-party candidate.

"I've said many, many times I will not leave the Democratic Party," Gabbard said in Iowa City. pic.twitter.com/KWT1qGWBgr

— Daily Iowan Politics (@DIpolitics) October 19, 2019
Gabbard then stated that the failed presidential candidate's statement were not only insulting to herself, but also to other veterans who oppose regime change wars.
In Gabbard's own words:
"[They are sending this message out to] every veteran in this country, every service member, every American, anyone watching at home fighting for peace and who was calling for an end to these regime change wars."
See for yourself:
"Thousands of my sisters and brothers in uniform were killed in Iraq, a war she championed. Their blood is on her hands."@TulsiGabbard hit back at @HillaryClinton's saying her message is an attack on all veterans.https://t.co/4mb6C1kQGt pic.twitter.com/CdUUIxkyJU

— Washington Examiner (@dcexaminer) October 19, 2019
Gabbard additionally stated that derailing her presidential campaign is where Clinton's real interest lies.
Thus far, Clinton has not stated whether or not she plans to enter the 2020 presidential race.
Accusations Involving the Russian Government
Tulsi Gabbard is not the first person whom Clinton has accused of receiving aid from the Russian government. The failed presidential candidate made similar claims about President Trump and former Green Party candidate Jill Stein.
Many conservatives have dismissed Clinton's claims of Russian collusion as merely sour grapes over losing the 2016 election to Donald Trump.