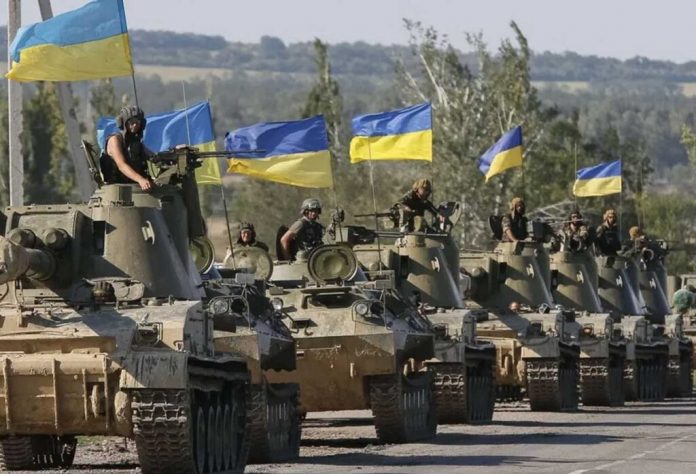 It has been 200 days since Russia invaded Ukraine.  And over the weekend Ukraine began a massive counterattack which has reportedly dealt a heavy blow to the Russian military and occupation forces.
As the occupying soldiers were pushed out of the area the governor of the Kharkiv region announced that Russian forces struck critical infrastructure, leading to blackouts. And that water distribution lines had also been cut in several areas in eastern Ukraine.
After defeats on the battlefield,ruscists attacked our heat&power stations.
They're running away from 🇺🇦 soldiers&taking revenge on civilians.
Cowards&terrorists.
They will not break our spirit.
If there will be lack of light, we shall have shade in which to fight them.

— Defense of Ukraine (@DefenceU) September 11, 2022
Ukraine counterattack
According to Ukrainian chief commander General Valeriy Zaluzhnyi, a Ukraine counterattack has made significant advances to the North from Kharkiv to within 50 kilometers (31 miles) of the Ukraine-Russian border. And its army is also pressing to the south and east in the same region. 
It has been 200 days since Russia invaded Ukraine.  And over the weekend Ukraine began a massive counter-offensive which has reportedly dealt a heavy blow to the Russian military and occupation forces.
Before launching the offensive, Ukraine strategically used Western-made weapons, including High Mobility Artillery Rocket Systems, or HIMARS, against the front-line positions and supply lines of the Russian forces.
Then in a perfectly executed counterattack, Ukraine reclaimed key cities that were occupied by Russia. And within two days Ukrainian forces pushed Russia's military out of strategic holdouts in the east.
The quick fall of Moscow's occupying force in Izyum and 30 other towns and villages surprised Russia. And it was perhaps its worst military defeat since its troops were forced back from Kyiv in March.
Unprecedented criticism of Russia 
In the meantime, the Russian military made a surprise announcement Saturday that it was "regrouping" its forces. And moving them south from Kharkiv to the Donetsk region to refocus its military efforts there.
The Kremlin-appointed leader of Chechnya, Ramzan Kadyrov, conceded in an 11-minute-long audio message that the campaign had been disrupted.
Kadyrov, a long-time Putin ally, has troops on the frontlines fighting with Russia. His message posted on Telegram said: "If today or tomorrow changes are not made in the conduct of the special military operation, I will be forced to go to the country's leadership to explain to them the situation on the ground."
This unprecedented criticism of the Russian army and Putin's leadership. And maybe a reflection of the disarray resulting from the surprise Ukraine counterattack.
Al Jazeera's Gabriel Elizondo reported that many pro-Russian Telegram channels were also acknowledging the defeat.   "And one high-profile military analyst said that their troops are in an operational crisis and that the Ukrainians have seized the initiative in this war".
 ISW reports a large number of Russian soldiers have been captured. And POWs are being transported out of the area. There are also estimates that up to 20,000 Russian soldiers are stranded in the area.
Just arrived in Kharkiv, there's no electricity. The Kharkiv branch of the public broadcaster Suspilne say Russia has hit critical infrastructure and the regional energy company is working to restore power.

— Isobel Koshiw (@IKoshiw) September 11, 2022
Multiple media reports claim that the power supply throughout eastern parts of the country, including Kharkiv, has been disrupted. 
Russia seems to be retaliating against its military defeat in Kharkiv by hitting the power grid. Kharkiv, Dnipro, Poltava, and other cities have had their power and water cut. And millions of civilians will be impacted.