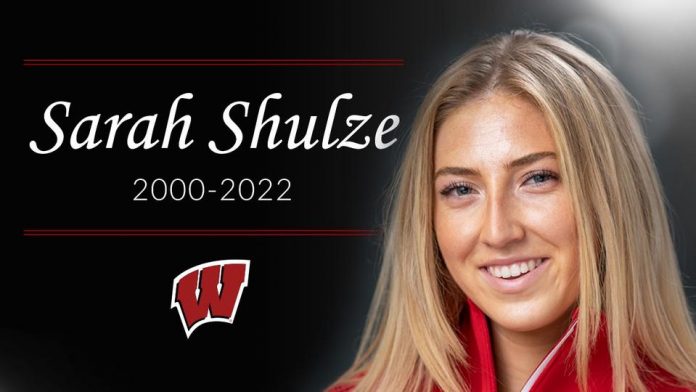 The family of college athlete Sarah Shulze, 21, shared the news of her April 13th death by suicide. Funeral services at the University of Wisconsin-Madison were held on campus today. And service will be held in California at Calvary Community Church on May 2.
Sarah, a junior, was a native Californian. She graduated from Oak Park High in 2019 where she was a star distance runner. She was awarded Ventura County Athlete of the Year in 2018 before earning a scholarship to Wisconsin.
She earned academic All-Big Ten honors in 2020 and 2021. And was a member of the cross country, indoor and outdoor track teams while running at Wisconsin.
Family starts Sarah Shulze Foundation
The popular athlete is survived by her parents, Brigitte and Scott, and her sisters Abbey and Ella. The Shulze family announced the Sarah Shulze Foundation on the Sarah Shulze website. And they hope it will "advance and support Women's Rights, Student-Athletes and Mental Health." 
"Balancing athletics, academics and the demands of everyday life overwhelmed her in a single, desperate moment," the Shulze family said. "Like you, we are shocked, and grief-stricken while holding on tightly to all that Sarah was."
"Anyone who knew Sarah knew that her lifelong passions extended beyond family and friends to the track. She began to make her mark as an athlete on her high school track and cross-country teams, competing throughout the country in National and State events."
"Her devotion and incredible talent for running would culminate in a scholarship opportunity to race for the University of Wisconsin at Madison, an ongoing source of pride for Sarah as she entered her third season with the team," the family said.
University of Wisconsin releases a statement
Officials at Wisconsin released a statement on Friday. They honored the student-athlete.
"The Wisconsin Athletics community is heartbroken by the unexpected passing of Sarah Shulze," the university said. "We extend our deepest sympathies and sincere condolences to Sarah's family, friends and Badger teammates during this extraordinarily difficult time."
Shulze's death was followed by outpourings of grief on social media.
NOTE:  If you struggle with suicidal thoughts or are experiencing a mental health crisis, please call the 24/7 National Suicide Prevention hotline at 1-800-273-8255 or go to SuicidePreventionLifeline.org.