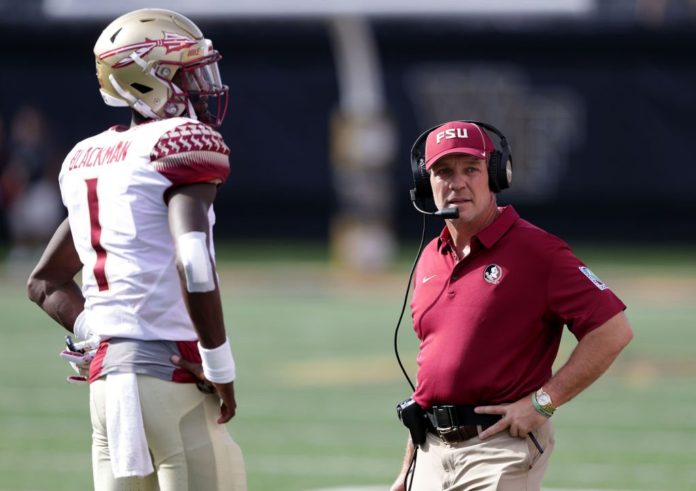 According to a senior staff member at Florida State University, Jimbo Fisher has successfully negotiated several key requests with the Athletic Department and is staying at Florida State…again.
Texas A&M recruitment of Fisher is a repeat of LSU
This is a repeat of recent history where Fisher was recruited heavily by LSU, only to reject the job and stay at Florida State.  During that period of time it was rumored that Fisher had successfully negotiated a number of requests he had with FSU's Athletic Department.
Considering Fisher's unquestionable talent at recruiting and his ability to lead, it comes as no surprise that he has leveraged Texas A&M to force FSU's Athletic Director to once again meet a number of demands for improvements to the football program.
Fake news has circulated that Jimbo Fisher would announce that he is leaving Florida State today, which we previously covered and turned out to indeed be false.
Top 10 Coach Salary
Fisher is currently the 6th highest paid coach in college football at $5.7M annually, which is a little more than half of what Nick Saban makes at $11.1M.
Rich Rodriguez, Arizona — $6.0 million
Urban Meyer, Ohio State — $6.4 million
Jim Harbaugh, Michigan — $7.0 million
Dabo Swinney, Clemson — $8.5 million
Jimbo Fisher is staying at Florida State, and expect more publicity to swirl about his departure followed by major announcements around the improvements Fisher negotiated to the FSU Football program during this period of time.