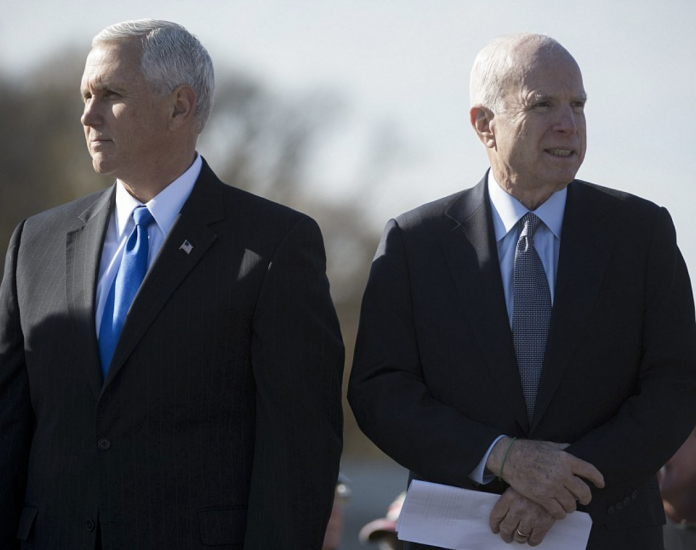 Vice President Mike Pence spoke about the late Sen. John McCain on Thursday at the American Legion, according to The Hill.
An Overview of Pence's Remarks
The vice president began his tribute to McCain by acknowledging his military service.
"He came from a long line of service in uniform [and] served in the Vietnam War," Pence said. "He spent five and a half years as a prisoner of war, and he did not yield."
Pence also assured the American Legion audience that McCain would be honored.
"I can assure you, America will always remember and honor the lifetime of service of United States Sen. John McCain," Pence said. "By honoring him, we also honor all of you."
More on the Passing of John McCain
McCain passed away on Saturday at 4:28 p.m. A statement from his office said that McCain had his family by his side during his final moments.
The late senator is most noted for his military service, including spending five and a half years as a prisoner of war. McCain was offered early released, but turned down the opportunity, refusing to leave his fellow soldiers behind. He is furthermore revered for his work in the U.S. Senate.
Additional Remarks
Pence is not the only political figure to discuss the memory of McCain. Former Vice President Joe Biden delivered remarks of his own at the late senator's memorial service.
Biden noted his lifelong friendship with McCain, despite the contrast between Biden and McCain's political views.
"As a young man, he'd come up to my house; he'd come up to Wilmington," Biden said. "Out of this grew a great friendship that transcended whatever political differences we had."
Biden then delved into why their friendship managed to transcend political differences.
"Above all, we understood the same thing: All politics is personal," Biden said. "It's all about trust. I trusted John with my life, and I would, and I think he would trust me with his."