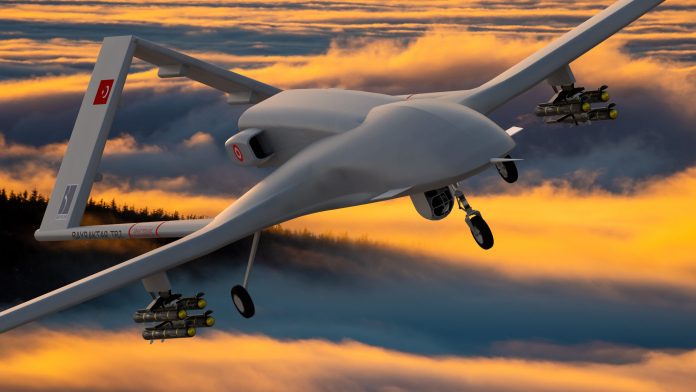 A Turkish-made Bayraktar TB2 drone captured video of successful attacks on two Russian Raptor fast-attack boats. The Russian patrol boats were blown up last week by Ukrainians in the Black Sea. 
This was another indication that Ukraine continues to win the Drone Wars.
"Two Russian Raptor boats were destroyed at daybreak today near Snake Island," Commander-in-Chief of the Armed Forces of Ukraine Gen. Valerii Zaluzhnyi reported.
"#bayraktar is doing its job," he continued, referring to the unmanned combat drone known as the Bayraktar TB2. The drones have been widely credited with sinking the two Russian Raptor fast-attack craft. Zaluzhnyi also posted a 17-second video that shows the drone hits on the Russian raptors. His video was time-stamped 4:51 am local time.
See Drone Footage
Russian raptor boats sunk
Raptor-class boats are 55-foot-long vessels armed with machine guns that are used for patrol missions, with a crew of three and space to ferry up to 20 troops.
Russia has not commented on their naval losses. But they are claiming that they shot down 3 Bayraktar drones. And have provided no photographic evidence.
The attacks took place near Snake Island, which is the strategic command post for Ukraine. The island was captured on February 24th and remains a symbolic location for Ukraine's defiance of Russia.
Snake Island is only 42 acres that is strategically located at the borderline of Ukraine's territorial waters in the Black Sea. Last year the Atlantic Council "think tank" called the area the "key to Ukraine's maritime territorial claims." 
It became Ukraine's symbol of resistance when the two dozen defenders of the island refused to surrender to Russian forces. And they defiantly radioed "Russian warship go screw yourself," as the flagship The Moskva approached.
The island defenders were captured by the warship. And for week's Ukraine thought they had been killed. And in April, the Moskva attack ship was hit with a Neptune missile and sunk.
The Russian raptor boat losses add to the mounting toll of Russian resources being destroyed in the war.