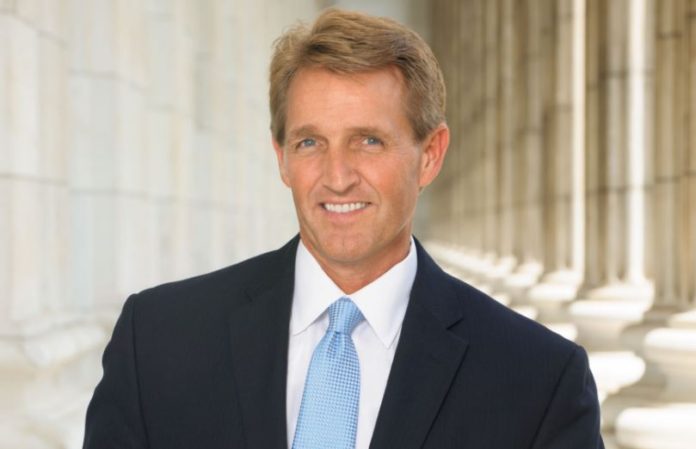 A man battling amyotrophic lateral sclerosis (ALS), implored Senator Jeff Flake to be an American hero by killing the GOP tax reform bill.
During a flight from Washington, the ALS patient named Ady Barkan learned that Sen. Flake was also onboard. He took the opportunity to have a face-to-face conversation with the Arizona senator regarding the tax legislation and other issues.
Last week, Sen. Flake voted yes on the GOP tax reform bill. The House and the Senate are now in conference developing a final version of the bill. After that, lawmakers on both chambers vote on the final version.
During his conversation with Sen. Flake, Barkan said he is a 33-year old father with an 18-month old son. According to him, he was suddenly diagnosed with ALS, which has a life expectancy of 3-4 years. He said there is no cure for his disease and expected to have a ventilator to live.
Barkan expressed his concern that the GOP tax reform bill will possibly result in $400 automatic PAYGO cuts. He noted that Mick Mulvaney, the director of the Office of Management and Budget (OMB) will be implementing the cuts. Barkan pointed out that Mulvaney "thinks people on disability are just slackers."
He asked Sen. Flake, "So what happens? What should I tell my son? What should you tell my son if you pass this bill and he cuts funding for disability and I can't get a ventilator?
Additionally, Barkan told Sen. Flake, "You can save my life. Please. Please remember this conversation. I need you to make you votes match your principles senator."
Furthermore, he said the senator will proud for the rest of his life with his vote against the GOP tax reform bill.
"This is your moment to be an American hero, said Barkan to Sen. Flake."
"My life depends on it. I need you to make your vote match your principles, Senator." A man who says he was recently diagnosed with ALS debates the GOP tax bill with Senator Jeff Flake on a plane https://t.co/vktpRIAQZM pic.twitter.com/bZcRqsZMMt

— CNN (@CNN) December 8, 2017
In tweet, Sen. Flake said, "I enjoyed the conversation, Ady. We won't always agree, by I admire your courage and knowledgeable advocacy."