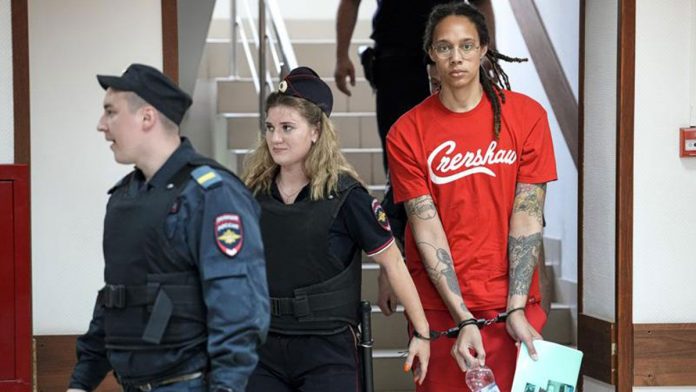 On Thursday, WNBA star Brittney Griner,31, submitted an admission of guilt before a Russian court. In the US her teammates and fans are chanting "We are BG."
Griner, a two-time Olympic gold medalist, pleaded guilty to a drug-smuggling charge after months of being held in Russian detention. She is facing drug possession charges that could come with a sentence of up to 10 years.
Griner was arrested at Moscow's Sheremetyevo Airport in February. She was returning for another season to play basketball in Russia. Police claimed they discovered vape canisters containing cannabis oil in her luggage.
Her detention came just before the Russian invasion of Ukraine. And there have been 2 extensions.
Last week, President Biden called Griner's wife Cherelle to reassure her that he is working to secure Brittney's release. Biden was responding to Cherelle's attempts to meet with him. And a letter from Brittney in which she said she was afraid she'd never return home.
The White House claims that Griner "is wrongfully detained in Russia under intolerable circumstances." And insist that President Joe Biden will "(pursue) every avenue to bring Brittney home."
We are BG
At the same time, Griner was appearing in court her friend, Megan Rapinoe, was in Washington DC. Olympic champion and NWSL soccer star, Rapinoe, was receiving the Presidential Medal of Freedom at the White House.