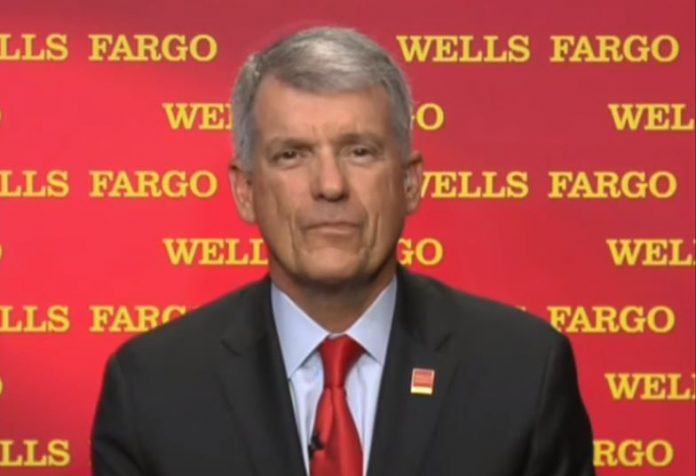 Well Fargo & Company (NYSE: WFC) announced that its President and CEO Tim Sloan resigned from his positions and as Board member effective immediately. He will be retiring from the company effective June 30, 2019.
Following the company announcement on Thursday, the stock price of Wells Fargo went up. During the extended trading, WFC shares were up more than 2 percent to $50.19 each.
Sloan is Wells Fargo veteran, who served the bank for more than 31 years. He took over as CEO in October 2016 when John Stumpf retired. At he time, the bank was in the middle of an account fraud scandal, in which its employees allegedly opened millions of  bank and credit card accounts on behalf of clients without their consent.
Since then, Well Fargo have been embroiled in many other problems associated with its auto lending, mortgage, and wealth management businesses.  Last year, the bank agreed to pay $1 billion in penalty to settle is regulatory violations related to its auto lending and mortgage businnesses. It also agreed to pay $575 million to settle a multistate investigation into its misconduct involving its sales practices, mortgage-rate lock fees, and Collateral Protection Insurance on auto loans.
In a statement, Sloan said, In my time as CEO, "I have focused on leading a process to address past issues and to rebuild trust for the future. We have made progress in many areas and, while there remains more work to be done, I am confident in our leadership team and optimistic about the future of Wells Fargo."
Additionally, Sloan said he believes that it is in the best interest of Wells Fargo to continue moving forward under a new CEO and fresh perspectives.
Wells Fargo Board appoints its General Counsel as interim CEO
The Board of Directors of Wells Fargo appointed its Senior Executive Vice President and General Coun
Parker was a presiding partner at Cravath, Swaine & Moore law firm before joining the bank. He has an extensive experience in banking, finance, and related matters.
"In my two years at Wells Fargo, I have been deeply impressed with the commitment of our 259,000 team members to move this great company forward and to build an even stronger foundation for the future," said Parker .
Deputy General Counsel Douglas R. Edwards will serve as interim General Counsel
The bank also announced that it started an external search proces for a permanent CEO and President.