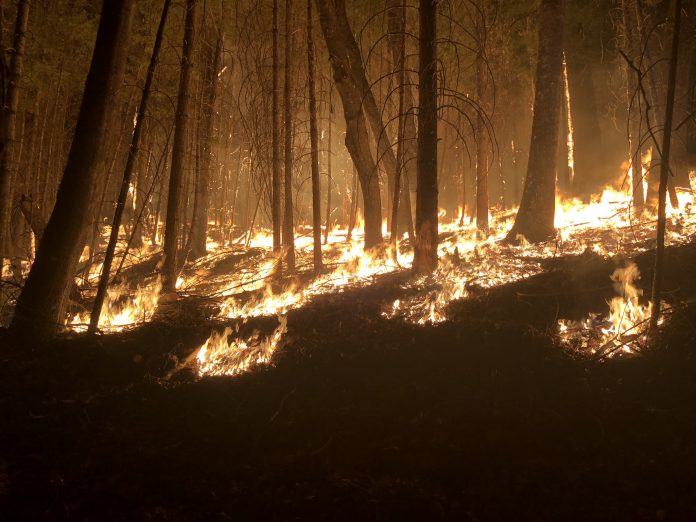 Deadly wildfires are spreading on the U.S.west coast from California to Washington state. These extreme blazes continue to threaten lives and properties.
People in some areas of California, Oregon, and Washington are experiencing very unhealthy to hazardous air quality.
California wildfires: 20 people killed, 26 missing
In California, the wildfires claimed at least 20 lives, damaged or destroyed more than 6,300 structures, and burned over 3.1 million acres– an area larger than the state of Connecticut, as Friday.
There are 14,800 firefighters working tirelessly in containing 28 major wildfires and they contained most of the 24 new fires that ignited yesterday.
The "August Complex Fire," which was ignited by lightning, is only 25 percent contained and has become the largest fire in California's history.
On Thursday, the California Department of  Forestry and Fire Prevention (CAL FIRE) confirmed seven new fatalities, bringing the number to ten, on the "North Complex Fire" in Butte County. It is currently the deadliest fire in the state's history. Four people suffered critical burns and were brought to the hospital and 26 others are missing.
California Governor Gavin Newsome says that the state is now battling five of the 20 most destructive fires in the last 100 years.
On August 22, President Donald  Trump declared California a disaster area.
Oregon wildfires: 24 fatalities, over 500,000 ready to evacuate
In Oregon, at least 24 people lost their lives and more than 500,000 people received advisory to be ready to flee their homes.  Around 40,000 people were ordered to evacuate, according to Gov. Kate Brown.  The state has become the new epicenter of wildfires.
About 3,000 firefighters from Oregon were being supplemented from nearby states. They are overwhelmed by the sheer volume of the flames. The fires started so abruptly and spread so quickly that the firefighters have been unable to contain them.

Mariana Ruiz-Temple, chief deputy state fire marshal, said officials are very concerned that the Beachie and Riverside fires could merge, causing "explosive fire activity."
Evacuation orders are inching closer to the Portland area, as the blazes move North threatening Washington state.  Portland is the largest most populated city in Oregon.  And many residents are fleeing for their lives.
As of Friday morning, 38 fires are burning from southern Oregon to Clackamas County. Ten of these are major fires that run through Oregon with no real containment.
"We have never seen this amount of uncontained fire across the state,"  said Gov. Brown during a press conference.
Trump approves emergency declaration for Oregon
The wildfires in Oregon wildfires that started this week quickly became a major crisis. President Trump approved Oregon's Emergency Declaration, a day after he received a letter from state lawmakers requesting disaster assistance.
President Trump has authorized, "the Department of Homeland Security, Federal Emergency Management Agency (FEMA), to coordinate all disaster relief efforts which have the purpose of alleviating the hardship and suffering caused by the emergency on the local population, and to provide appropriate assistance for required emergency measures … to save lives and to protect property and public health and safety, and to lessen or avert the threat of a catastrophe," according to a statement from the White House.
Poor air quality
Widespread smoke continues to blanket Northern California and Northwest Oregon.   
Many areas have fluctuating smoke levels between unhealthy for sensitive groups (orange) and hazardous (maroon). 
Hazardous levels indicate that people in those areas should protect themselves. The most impacted areas in Oregon are those closest to fires including, Salem, Eugene, the Rogue Valley, and Roseburg, Oregon. 
The Portland-Vancouver area will likely have air quality continue to get worse.  The air quality is also expected to get worse in Central and Eastern Oregon. The hope is that a shift in winds may provide the Oregon Coast with some more breathable air starting on Sunday.
In Washington, Gov. Jay Inslee announced Thursday that wildfires burnt 90 acres in the state. A boy died and his parents suffered severe burns while scaping the Cold Springs Fire In Okanoga County, according to Seattle Times.
More than 120 homes were destroyed by the wildfires in the state.
The air quality in western Washington has become very unhealthy due to the smoke blowing from California and Oregon.
————————————————–
Have a story you want USA Herald to cover? Submit a tip here and if we think it's newsworthy, we'll follow up on it.
Want guaranteed coverage? We also offer contract journalism here.  Just be sure you're comfortable giving up editorial control because our journalists are dogged and will follow the story through to the conclusion. The story will be published to our exacting standards, without regard for your preferred slant.
Want to contribute a story? We also accept article submissions — check out our writer's guidelines here.