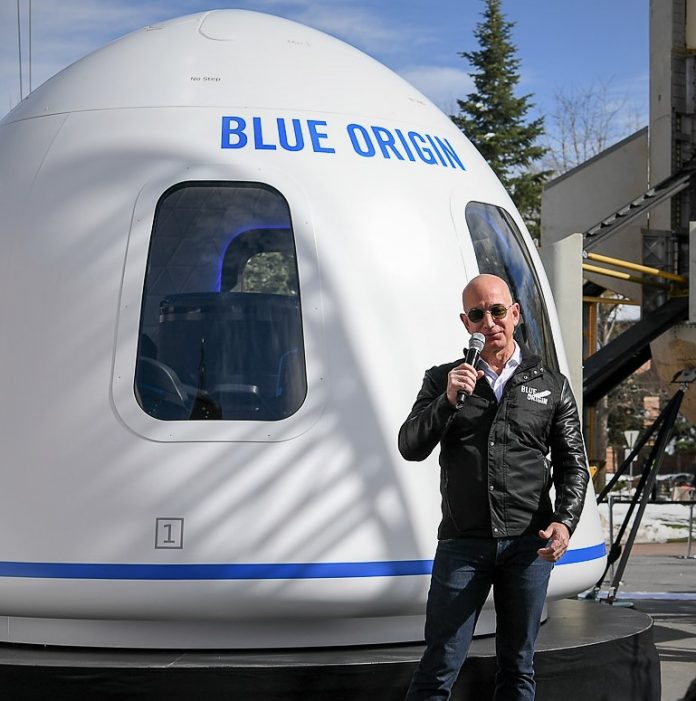 Amazon and Blue Origin CEO Jeff Bezos is planning to launch into space with his brother Mark Bezos on July 20th. And he was taking a mystery passenger along for the ride on the New Shepard. But the person who is paying $28 million for a low orbit space flight just backed out of the maiden voyage of Bezos' space flight. 
The still anonymous millionaire is passing up the space flight due to "scheduling conflicts." But plans are to fly later on the second crewed flight.
 Billionaire Space Race
Space companies Virgin Galactic and Blue Origin are both trying to open up space tourism as a new industry. Bezos believed he had cornered the market when he announced on June 6th that Blue Origin was going to fly its first crewed mission. 
But Virgin Galactic CEO Richard Branson got there first. He beat Bezos by 9-days with a successful July 11th flight on his spaceplane the VSS Unity. 
Bezos Tweeted out before the mission a comparison of  Virgin Galactic and Blue Origin. And no surprise his company came out on top. He also said that the  VSS Unity wasn't flying high enough to make it into space.
But the Virgin Galactic had flown humans to space three times before Branson got on board. And Bezos is still a "space virgin" with no crewed missions so far.  SpaceX Elon Musk is years ahead of them both in space accomplishments. His company has flown astronauts to the International Space Station (ISS).
To be fair, the space mission that Bezos is flying on the New Shepard rocket has been successfully flown unmanned over a dozen times.
The Bezos' space flight is most certainly going to set records with his flight. Traveling with the Bezos brothers is legendary aviator Wally Funk, aged 82. He will be the oldest person to make it from Earth into space. And the mystery passenger's replacement on board the New Shepard is 18-year-old Oliver Daemen, the youngest person to fly in space. 
Daemen holds a private pilot license and plans on studying physics in college. His Dad  Joes Daemen, CEO of Somerset Capital Partners paid an undisclosed amount of money to get a seat on the second crewed flight.
"We moved Oliver Daemen up when this seat on the first flight became available," Blue Origin told reporters at CNBC.
Watch Bezos' Space Flight
You can Livestream the mission starting at 6:30 am CDT/11:30 UTC. The actual launch is set for around 8:00 am CDT.
It will be accessible on the Blue Origin Website.