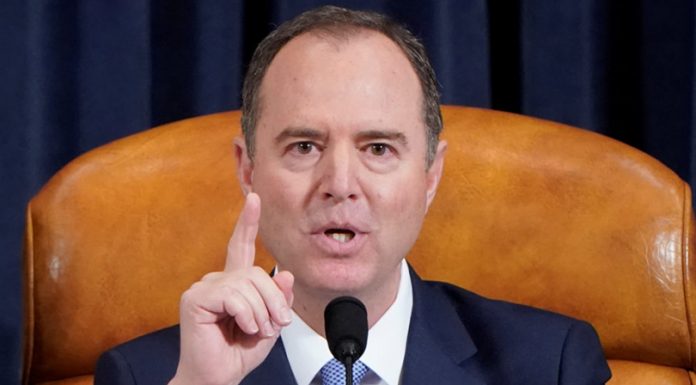 One of former President Donald Trump's most persistent enemies could be vying for a new job enforcing law and order.
California Rep. Adam Schiff is said to have his eyes set on becoming the next Attorney General of California. A position that helped take Vice President Kamala Harris to where she is now, The Daily Mail reported.
It has been reported that Rep. Schiff has been lobbying for the position since the current California Attorney General Xavier Becerra, who has been appointed President Joe Biden to serve as secretary of Health and Human Services.
Like Vice President Harris, Rep. Schiff could follow a similar path from attorney general to Senator if Sen. Dianne Feinstein, 87, decides not to campaign for another election in 2024.
Word is that Schiff had also lobbied to have California Gov. Gavin Newsom appoint him as a Senator when Harris was elected as Vice President of the United States before the governor chose Secretary of State Alex Padilla.
The representative has been a major presence on television and Twitter where, even after the inauguration of President Biden, he has continued his attacks against former President Donald Trump.
"For four years, our values and our democracy were under attack. With difficulty, we withstood the assault. But for the first time in a long time I'm breathing a sigh of relief. Today marks the beginning of a national renewal. The hopes of a nation are with you, Mr. President," he said.
"For four years, intelligence professionals were battered and belittled by a President afraid of the truth. Avril Haines will ensure that politics is kept out of their work, just as it should be. Congratulations, @ODNIgov Director Haines, and look forward to our work together," Schiff said.
"With this order, we once again put our faith in science and in our ability to adapt and overcome great difficulties. We rejoin the world in protecting our planet for generations to come. What we do to fight climate change will determine our legacy— Or if we will even have one," he said.
"The brutal murder of Jamal Khashoggi was an assault on human rights. But for a year the Trump Admin refused to make public an unclassified report on Saudi Arabia's culpability. I have asked Director Haines to declassify this report. There must be accountability and justice," Schiff said.
"Through his lies and provocations, Trump incited a mob to attack the peaceful transfer of power.   As House members, we did our job and impeached him.  It will soon be time for Senators to do theirs. To protect the country, Trump must be disqualified from any further office" he said in another tweet.