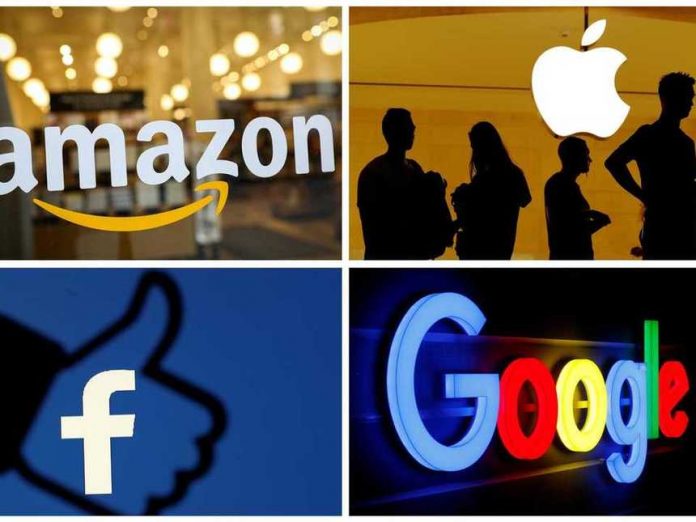 Although U.S. stocks closed lower for the day, Apple, Google, Facebook, and Amazon were once again in the spotlight. Shares of these technology giants lifted the Nasdaq and are all up in after-hours trading.
After the Big 4's showdown with the U.S. congressional antitrust hearing where the CEOs of the companies faced scrutiny and criticism for their business practices, all four received the news of rising revenues.
Google, Amazon, Facebook, and Apple reported earnings after the closing bell. The results show their businesses are holding up well despite the coronavirus pandemic.
Apple beats expectations
Apple's revenue of $59.7 billion was better than analysts anticipated according to Factset. The company's per-share also beat expectations at $2.58 and shares were up 5% after the bell. Before the quarterly results, the stock was up 31% in 2020.  
Third-quarter earnings numbers were good with net income at $11.25 billion, Mac revenue at $7.08 billion and services revenue coming in at $13.16 billion. IPad posted revenue of $6.58 and iPhone had revenue of $26.42 billion.
Google parent Alphabet earnings surpass expectations
For the first time in its publicly traded history, Google parent Alphabet reported a decline in year-over-year quarterly sales, falling 2% to $38.3 billion. According to Factset, its previous lowest quarter of sales growth was a 0.6% gain in the June quarter of 2009.
Still, the company's sales beat analyst expectations, and the stock is up 1.8% in after-hours trading.
Alphabet noted a gradual improvement in their ads business and a strong bump in the growth of Google Cloud. Profit margins for the search and online advertising giant slipped from a year earlier, but earnings came in well ahead of forecasts.
Shares gained 1.3% in after-hours trading. Before the results, the stock had risen 15% in 2020.
Amazon posts better than expected results
Amazon also beat expectations. Revenue rose 40% to $88.9 billion which was better than forecast, according to Factset. The increase was driven by customers who have heavily relied on online shopping more than ever during the coronavirus pandemic.
The per-share earnings also surpassed expectations. Amazon reported a net income of $5.2 billion and EPS of $10.30.
Shares gained 4.4% in after-hours trading. Before the results, the stock had risen 65% in 2020.
Amazon $4 billion on COVID-19 costs; cloud-computing sales slightly below estimates Bezos statement
In a statement from CEO Jeff Bezos Amazon confirmed earnings and COVID costs: "As expected, we spent over $4 billion on incremental Covid-19-related costs in the quarter to help keep employees safe and deliver products to customers in this time of high demand—purchasing personal protective equipment, increasing cleaning of our facilities, following new safety process paths, adding new backup family care benefits, and paying a special thank you bonus of over $500 million to front-line employees and delivery partners."
"We've created over 175,000 new jobs since March and are in the process of bringing 125,000 of these employees into regular, full-time positions. And third-party sales again grew faster this quarter than Amazon's first-party sales. Lastly, even in this unpredictable time, we injected significant money into the economy this quarter, investing over $9 billion in capital projects, including fulfillment, transportation, and AWS."
Sales at AWS, cloud-computing unit, rose to $10.8 billion from $8.38 billion, slightly below the analyst's predictions.
Facebook revenue exceeds expectations
Facebook's numbers showing revenue of $18.69 billion was better than analysts expected, according to Factset. The company's adjusted per-share earnings of $1.80 also surpassed expectations.
Shares rose 5% in after-hours trading. Before the results, the stock had risen 14% in 2020.
Facebook posted less growth in the second quarter but revenue was still higher than analysts predicted.
With the "facing a period of unprecedented uncertainty in our business outlook" they anticipate that year-over-year ad revenue growth rate for the third quarter will be similar to the July performance. Facebook sees 2020 Capital expenditures of about $16 billion. Quarter two capital expenditures, including principal payments on finance leases, were $3.36 billion.
————————————————–
Have a story you want USA Herald to cover? Submit a tip here and if we think it's newsworthy, we'll follow up on it.
Want guaranteed coverage? We also offer contract journalism here.  Just be sure you're comfortable giving up editorial control, because our journalists are dogged and will follow the story through to it's conclusion. The story will be published to our exacting standards, without regard for your preferred slant.
Want to contribute a story? We also accept article submissions — check out our writer's guidelines here.