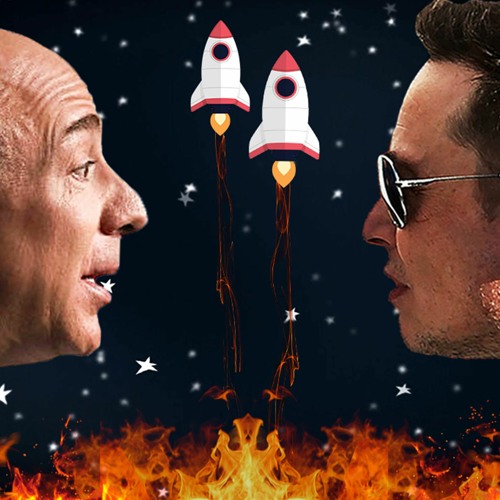 Blue Origin lost out to SpaceX in their bid for NASA's Artemis Human Landing System contract. But that was only the beginning of the Bezos war on NASA. And a continuation of his war on SpaceX was also in the works.
After Jeff Bezos-owned Blue Origin lost the bid it ultimately filed a case against NASA in Federal court. But first it lost it's complaint with the government watchdog.
The HLS program is the center of the NASA Artemis Moon Program scheduled to be complete by 2024. 
The plan is to have the first crewed mission to the moon since 1972. And NASA's lawyers are claiming the Bezos litigation is causing a major delay to the program.
Bezos war on NASA continues
Backed by the richest man in the world, Blue Origin indicated its bid price. But it was almost double SpaceX's proposal. And it was based on the assumption that NASA would have plenty of money from Congress to pay for the proposal.
Elon Musk-owned SpaceX submitted a bid of $2.9 billion. Bezos's bid was $5.9 billion. In April, NASA awarded the entire contract to SpaceX. 
NASA, working with a reduced budget from Congress, was not interested in negotiating.
Bezos quickly submitted a complaint to the Government Accountability Office (GAO). Concurrently, a "letter to NASA" was released to try and manage public perception. And Bezos was doing hundreds of thousands of dollars worth of lobbying in Washington DC. 
The GOA decision was to uphold the NASA bid process. And to deny the Blue Origin protest. And it confirms "the [contract] announcement reserved the right to make multiple awards, a single award, or no award at all."
Space Cowboy is a gambler
 NASA's Response to Blue Origin's lawsuit claims it should have been awarded the Artemis Human Landing System contract. But NASA says Blue Origin was gambling on the lunar lander bid. And that "Blue Origin made a bet and it lost."
NASA attorneys claim that Blue Origin did not submit a proposal with its best price. The company, was  instead, assuming "the Agency's HLS budget, built its proposal with this figure in mind, and also separately made a calculated bet that if NASA could not afford Blue Origin's initially-proposed price, the Agency would select Blue Origin for an award and engage in post-selection negotiations to allow Blue Origin to lower its price."
All these assumptions say NASA attorneys are incorrect. And that, "Realizing now that it gambled and lost, Blue Origin seeks to use GAO's procurement oversight function to improperly compel NASA to suffer the consequences of Blue Origin's ill-conceived choices."
Overall, NASA is directly disputing Bezos' arguments. They say "These claims from a losing bidder are patently inaccurate."