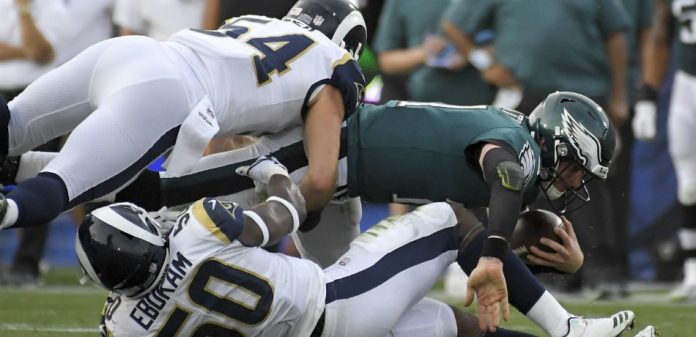 **UPDATE:  Eagles insiders say Wentz is out for season with ACL injury**
A source inside the Eagles camp has confirmed with the USA Herald that Carson Wentz hyperextended his knee.
A hyperextended knee occurs when the knee is bent backward, often as a result of landing wrong after a jump. A hyperextended knee can damage ligaments, cartilage and other stabilizing structures in the knee.
The Eagles ruled Carson Wentz out against the rams initally with a left knee injury. He left for the locker room in the third quarter after taking a hard hit in a dive into the end zone, a play that was negated by a holding penalty.
Wentz got injured when Morgan Fox and Mark Barron hit him on a scramble.  He stayed in for four more plays, throwing a touchdown to Alshon Jeffery.  When Wentz reached the sideline, the medical staff took him into the medical tent.
Nick Foles has replaced Wentz as the Eagles won 43-35 in the fourth quarter.
Wentz completed 23 of 41 passes for 291 yards with four touchdowns and an interception. He broke the team record for touchdowns in a single season with his 33rd.