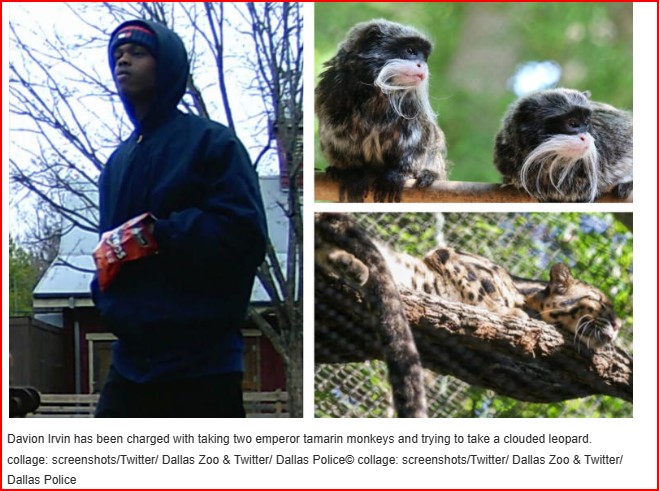 A Dallas man was arrested last week for a string of bizarre occurrences at the Dallas Zoo. Davion Irvin, 24, told Dallas police he is an animal lover. And he claims he would do it again.
He is being charged with six counts of animal cruelty and two additional counts of burglary. And he is being held on a $25,000 bond.
Irvin has confessed to stealing two emperor tamarin monkeys from the Dallas Zoo.
The second count of burglary is related to the first time Irvin jumped the fence and broke into the zoo. In his first middle-of-the-night break-in he cut open the enclosure of Nova, the clouded leopard. 
Just an animal lover looking for a pet
Irvin admitted that he was petting the big cat in an attempt to take her with him. Nova managed to escape by jumping on top of her habitat. And she was not captured till hours later by the zoo care team.
Irvin is also linked to the damage found at the languor monkey cage on the same night that Nova went missing. Police did not charge him with cutting that enclosure since the languors didn't leave their habitat.