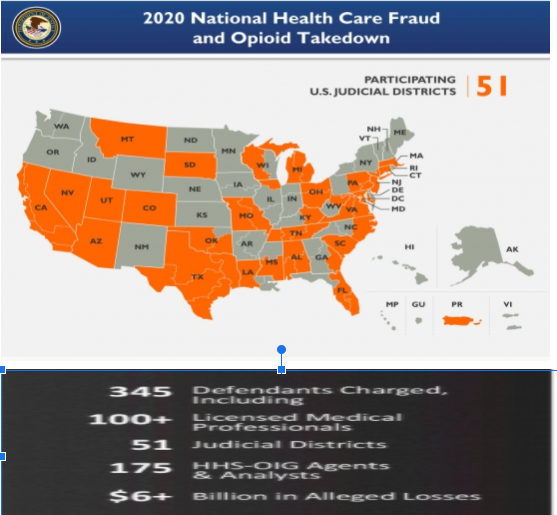 The Department of Justice (DOJ) charged 345 people, including doctors,  nurses, and a variety of medical professionals allegedly involved in more than $6 billion in healthcare fraud. The DOJ's law enforcement action spanned 51 federal jurisdictions.
It is considered the largest takedown of healthcare fraud in the history of the department.
According to the Justice Department, the 345 defendants were responsible for submitting false and fraudulent claims that cost more than $6 billion to the federal health care programs and private insurers.
The submitted false and fraudulent claims included $4.5 billion related to telemedicine or telehealth, $1.5 billion connected to substance abuse treatment facilities or "sober homes," and over $806 million linked to other forms of healthcare fraud.
Court documents showed that 86 defendants were telehealth executives who allegedly paid doctors, nurse practitioners, and other medical professionals to order unnecessary large amounts of durable medical equipment, genetic and other diagnostic tests, and pain medications.
The defendants allegedly placed orders sometimes without any interaction or with only brief phone conversations with patients whom they never met or seen.  
Durable medical equipment companies, testing laboratories, and pharmacies purchased the orders and submitted claims false and fraudulent claims to Medicare and other government insurers. In exchange, they receive illegal kickbacks and bribes from telemedicine executives who placed the orders. 
Often, the medical equipment, test results, or medications were not even provided to the beneficiaries or were unnecessary and effectively worthless to patients. This type of flawed care, misdirection, fake diagnoses, and unneeded tests misled patients and delayed their chance to seek appropriate treatment for medical issues. 
The defendants allegedly laundered the proceeds obtained from the fraudulent scheme through international shell corporations and foreign banks for their personal benefits. 
In June, the Attorney General of New York filed a lawsuit against Frank Borgese and his company, Impact Medical & Surgical Solutions, for allegedly violating state laws by engaging in deceptive and fraudulent solicitation of sales of PPE, including N95 and KN95 respirator masks.
Telemedicine expansion leads to fraud
The telemedicine fraud takedown comes amid the COVID-19 pandemic when telehealth services have been greatly expanded. The potential for billing fraud and abuse with the healthcare system has unfortunately become easier for bad actors when some telehealth restrictions have been lifted in an attempt to get health services to vulnerable patients.
In March, Medicare chief Seema Verma announced a "historic action" to make virtual medical care or telemedicine more available through the Centers for Medicare and Medicaid Services (CMS).
She temporarily lifted a variety of federal restrictions on the use of the service to expand services beyond the limited rural areas. Verma also praised telehealth, saying it could handle routine care for an older patient with diabetes without risking a visit to a medical office during the pandemic.
A Medicare recipient with mild flu-like symptoms could receive advice from a doctor at home "instead of leaving the house and sitting in a waiting room full of other vulnerable people," said Verna. 
Mike Cohen, an operations officer with the Health and Human Services (HHS) Inspector General's Office, said in April that anti-fraud "guardrails have been removed under this epidemic. The concern is that things will never go back to what they were. There will be a lot of pressure on CMS to make at least some of these changes permanent." He added that the action resulted in an increase in telemedicine fraud.
Sober homes substance abuse treatment fraud
Defendants have been charged with more than $845 million in alleged fraud connected to substance abuse treatment facilities or sober homes. And other defendants charged with over $806 million connected to fraud and illegal opioid distribution schemes nationwide.
The sober homes cases include charges against more than 12 criminal defendants related to more than $845 million of allegedly false claims for tests and treatments for patients seeking treatment for drug and alcohol problems.
Defendants include practitioners, doctors, and operators of substance abuse treatment facilities. Patient recruiters referred to in the industry, as "body brokers" were also named as defendants
The defendants allegedly participated in various schemes that involve the payment of illegal kickbacks and bribes for the referral of hundreds of patients to substance abuse treatment facilities. 
Those patients received medically unnecessary drug testing, which was sometimes billed as thousands of dollars for a single test. There were also billings for therapy sessions that were not usually provided. And the result was millions of dollars of false and fraudulent claims submitted to private insurers. 
Many of these cases allegedly involve the illegal prescription and/or distribution of opioids. This healthcare fraud includes charges and guilty pleas involving more than 240 defendants. It involves more than $800 million in false and fraudulent claims. Insurance companies were allegedly paying for treatments that were unnecessary and often never provided.
Increase in fraud 2016-2020
Since 2016, HHS OIG has seen a significant increase in telemedicine fraud. There have been many alleged schemes involving marketing networks that have lured thousands of individuals into a criminal scheme through telemarketing calls, direct mail, TV ads, and internet pop-up ads.
In addition to the criminal charges, the Centers for Medicare and Medicaid Services' Center for Program Integrity separately announced that it has taken several administrative actions related to the healthcare fraud. The agency revoked the Medicare billing privileges of 256 additional medical professionals for their involvement in various schemes.
—————————————-
Have a story you want USA Herald to cover? Submit a tip here and if we think it's newsworthy, we'll follow up on it.
Want to contribute a story? We also accept article submissions — check out our writer's guidelines here.