Overall, Cho's actions show recognition of the fact that the media at the time could spread his story. Without Facebook, Twitter, and the other social media platforms, it is certain that news coverage of the shooting would not have reached as many people as quickly. It is interesting to compare the media coverage of Columbine and Virginia Tech because the two incidents received such different reactions due to the eight-year time difference. Clearly, as social media and the digital world developed, news coverage became amplified more easily.
Parkland
The Parkland shooting is the third and last shooting included in this comparative analysis. Nikolas Cruz shot and killed 14 students and three teachers on February 14, 2018 at Marjory Stoneman Douglas High School in Parkland, Florida. Cruz purposely set off the fire alarm in order to draw students and staff outside of their classrooms. All within an hour and a half, the shooting took place, the shooter escaped, and was arrested (Chavez, 2018). The media coverage of this incident was unlike any other, creating millions of posts on social media platforms and highlighting powerful student-run protests and campaigns for weeks on end.
The coverage of the Parkland shooting occurred during the media's most-developed era and attracted attention from political leaders, celebrities, and especially students all over the nation. It is important to recognize that by 2018 it is not uncommon for individuals to solely rely on social media and online news sources for updates on current events. Since Virginia Tech in 2007, popular visual sharing platforms such as Instagram (2010) and Snapchat (2011) had dramatically changed the way in which these incidents are covered.
Parkland media coverage differed in one important way. Instead of honing in on the shooter and his or her motives, the bulk of coverage focused on the students and their plan to end gun violence. One observer recognized, "It has a lot to do with the fact that those kids from that school are super pissed. They've taken a much different activist role than we've seen in previous shootings" (Francis, 2018). The students and survivors of the Parkland shooting quickly realized that social media and online platforms were their best bet in having their voice heard.
The coverage of Parkland through social media started shortly after the shooting began. Content ranging from Snapchat videos to emotional posts for help were released and shared on multiple platforms, including Twitter, Facebook, and Instagram. Students captured the incident on their own phones, including videos of them shielding themselves and areas in the classroom that were damaged from the shots. Students were using Facebook and Twitter specifically to determine if certain friends or family members were still alive, a few posts received thousands of shares from the public. Even during the attack, students still sent tweets. One student stated, "my school is being shot up and I am locked inside" (Shayanian, 2018).
The Parkland coverage on social media did not end there. Marjory Stoneman Douglas High School students called out lawmakers and created a plan for action. The most popular social media platforms became flooded with photos and videos of protesting students, Emma González, David Hogg, Cameron Kasky, and Sarah Chadwick. These students used social media to voice their opinion, call out lawmakers, and spread awareness about gun control. Twitter rapidly verified the accounts of these four students to support their credibility of their information (Wagner, 2018).
Coverage of the shooting progressed with the creation of the #NeverAgain movement and the March For Our Lives demonstration. With this movement and demonstration, students aimed to end gun violence and organized a march in Washington, D.C., on March 24, 2018. All major news organizations reported on the march throughout the day and even celebrities such as Oprah, Miley Cyrus, and Taylor Swift showed their support through social media and monetary donations (Amatulli, 2018).
The extensive media coverage of the Parkland shooting represented a more-developed media era. Much of the coverage surrounding this shooting took place in digital space, with postings on Facebook, Twitter, Snapchat, YouTube, and Instagram. The natural reaction of students to immediately take phones out and post on social media demonstrated just how much of a role the digital space had in the coverage of this crisis situation in 2018. Unlike the media coverage from Columbine and Virginia Tech, the media coverage of Parkland sparked a global conversation and nationally recognized campaigns. This may be attributed to the social media era and its impact as a communication channel.
Mother Jones Archive
It is evident just how much of an effect the evolution of digital platforms and social media has had on how news of these shootings is disseminated. It is also key to analyze how these findings relate to contagion by looking at the frequency of incidents throughout the media eras. As stated within the methodology, the year of 2011 may be used as a benchmark, due to the surge of social media milestones that year. The mass shooting archive analyzed in this study was provided by Harvard researchers through Mother Jones (Cohen, Azrael, & Miller, 2014). The data provides specific information, including an entire record of mass shootings from 1982 to 2018. The archive also provides information on the location of shootings, what year shootings took place, a brief summary of incidents, a count of fatalities and injuries, and other details on weapons used and mental health involvement.
This archive revealed that the number of shootings did in fact increase over time, especially after 2011 (Figure 1). From 2011 to 2018, the numbers noticeably increase and become more consistent. During this time, social media use also became prevalent in society. As Lang (2015) explained, during the year of 2011 Twitter doubled its users, Facebook exceeded 750 million users, and Instagram celebrated its one-year anniversary.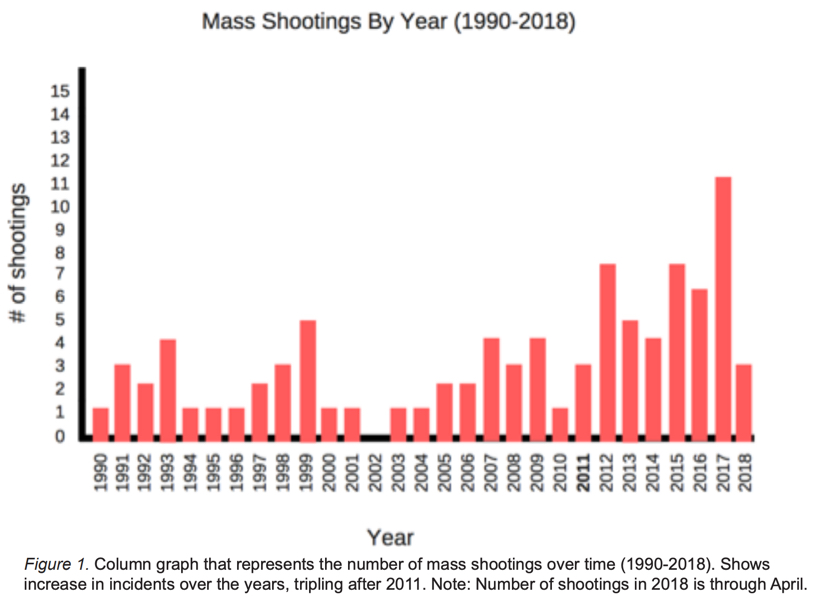 As seen in Figure 1, the average number of annual mass shootings from 2004-2010 was 2.5, compared to 7.5 from 2011-2018. The evidence shows that mass shootings did in fact triple after 2011, suggesting a possible relationship between the spread of mass shooting news on social media platforms and the increase in these crimes.
Conclusion
Through analysis of media coverage, both traditional and social, of the shootings at Columbine, Virginia Tech, and Parkland, one can conclude that the media era in which a shooting took place had an enormous effect on how shootings were covered in the news. This study suggests that there is a pattern between the spread of mass shooting news on social media platforms and the increase in these crimes. Over time, as social media has increased in usage, so has the coverage of news concerning mass shootings. This also further reflects shooters' desire for fame and their tendency to copy a crime.