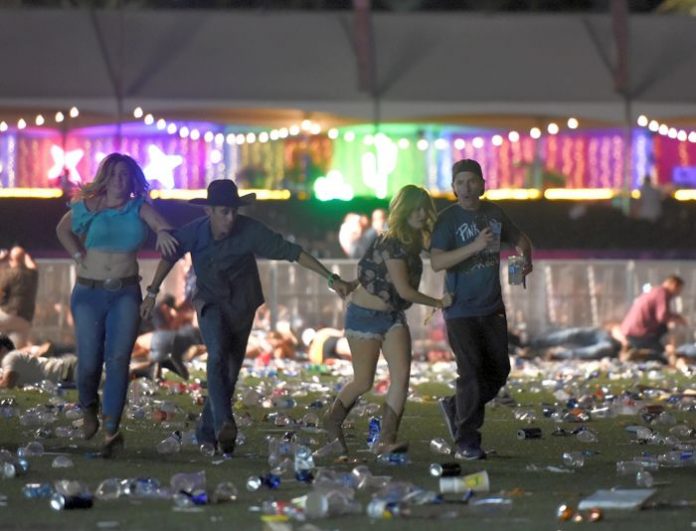 Two mass shootings at crowded public places in Texas and Ohio in less than 24 hours claimed at least 29 lives and left scores injured, a shocking carnage even in a country accustomed to gun violence.
In the Texas border city of El Paso, a gunman opened fire Saturday morning in a shopping area packed with thousands of people during the busy back-to-school season, killing 20 and injuring more than two dozen, many of them critically. The shooting was being investigated as a possible hate crime as authorities worked to confirm whether a racist, anti-immigrant screed posted online shortly beforehand was written by the man arrested in the attack on the 680,000-resident border city.
Just hours later in Dayton, Ohio, a gunman wearing body armor and carrying extra magazines opened fire in a popular nightlife area, killing nine and injuring at least 26 people.
The Saturday shooting in El Paso and the Sunday shooting in Dayton were the 21st and 22nd mass killings of 2019 in the U.S., according to the AP/USA Today/Northeastern University mass murder database that tracks homicides where four or more people killed — not including the offender.
Including the two latest attacks, 125 people had been killed in the 2019 shootings.
A History Of The Top 25 Mass Shootings Prior To Yesterday's Murders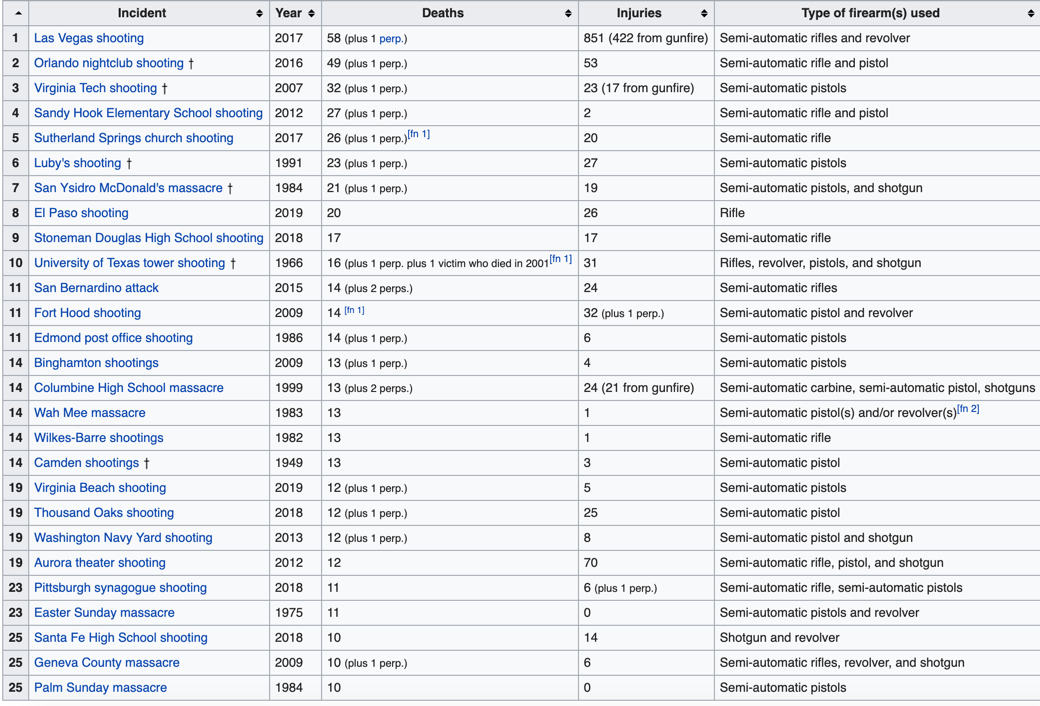 Including yesterday's shootings, 18 of the top 25 deadlies shootings have happened over the past 15 years.   Ironically, both Myspace and Facebook are approximately 15-16 years old, with other online channels such as forums as old as 20 years now.
The first mass top 25 mass shooting occured in 1949 in Camden, then a whopping 17 years the next top 25 mass shooting occured at the University of Texas.
In-Depth Study Of Mass Shootings
Columbine. Virginia Tech. Orlando. San Bernardino. Las Vegas. Sandy Hook. Parkland.
These are only a handful of the places where mass shootings have occurred in the United States in the past 20 years, and these violent crimes are increasing in frequency. An event where four or more individuals are shot now occurs every 12.5 days in this country (Meindl & Ivy, 2017). This rise in mass shootings has recently been linked to "media contagion" theory, which suggests that society's never-ending news cycle has a "copycat" effect on these crimes (Meindl & Ivy, 2017).
It is important to note that the primary media circulating this news are not just television and newspapers anymore, but also social media platforms and online news sources. These new media, including Snapchat, Facebook Live, Twitter, and online blogs, have made the spread of information about mass shootings nearly effortless.
It is no coincidence that connections have been made between social media milestones and mass shooting numbers in the United States. This study analyzed social media platforms, online news sources, and mass shooting archives to determine the relationship between two variables: the spread of mass shooting news on social media platforms and the increase in these crimes.
Throughout the data collection phase of this study, it was important to consider two specific factors: how the different media eras have affected the coverage of mass shootings, and how social media have influenced the frequency of these events in the digital age.
To address the first factor, an analysis of media activity and involvement from three historical mass shootings was conducted, specifically focusing on how news was spread among media platforms and how the public used social media as a communication tool during and after the event. The way in which these shootings were portrayed within the media at the time was of particular importance. This study focused on the Columbine, Virginia Tech, and Parkland shootings because these mass shootings took place during three different points in social media's evolution. When the infamous Columbine High School shooting occurred in Littleton, Colorado in April of 1999, social media platforms did not exist, forcing the public to get a majority of their news from newspapers, radio, and television (Hale, 2015).
Eight years later, when Seung-Hui Cho shot and killed 32 individuals at Virginia Tech in Blacksburg, VA, popular platforms such as MySpace (2003), Facebook (2004), and Twitter (2006) were in use (Hale, 2015). Social media has continued to advance rapidly since then and when the Parkland, Florida shooting took place at Marjory Stoneman Douglas High School in February 2018, news spread instantaneously on almost all digital platforms including everything from Snapchat and Instagram to Facebook Live and YouTube. With each shooting, it was important to take note of how the media portrayed the incident on digital platforms during this time. By analyzing these mass shootings from three different time periods, media coverage and activity from each can be compared and contrasted, ultimately showing the effects of social media advancement and how social media may have contributed to contagion.
The second factor was then examined through the analysis of a Mother Jones mass shooting archive. The dates and the frequency of shootings were examined in particular in order to reveal patterns of contagion. The year of 2011 was used as a "benchmark" for this method due to a Harvard study that showed the rate of mass shootings tripled after this date (Cohen, Azrael, and Miller, 2014). The year was also a landmark for social media, as Twitter doubled its number of users, Facebook reached 750 million users, and Instagram had its one-year anniversary (Lang, 2015). A clear increase in mass shootings after 2011 would suggest that social media may have an impact.
Findings & Discussion
This study found significant patterns between the spread of mass shooting news on social media platforms and the increase in these crimes. The analysis of three different historical mass shootings revealed there to be a difference in coverage due to the media environment in which the shootings occurred. Evidence from an archive then showed that shootings tripled in numbers around the same year that social media use skyrocketed.
Columbine
On April 20, 1999, 13 lives were taken in what many call the most tragic and recognized shooting in history (Mannino, 2012). This mass shooting is known as the Columbine High School Massacre in Littleton, Colorado. Columbine shooters Dylan Klebold and Eric Harris went to their high school that day with the intent to kill, targeting minorities and athletes (Byock, 2009). After analyzing the media coverage that resulted from Columbine, one can recognize the role the specific media era played in terms of how the shooting was publicized in the news.