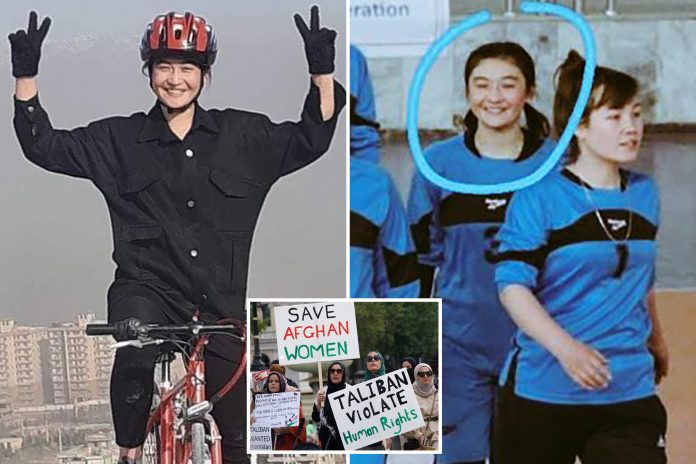 An Afghan volleyball player has been killed by the Taliban. There have been reports that other women athletes are being murdered. But the Taliban is suppressing the news within the country. And those that are escaping Afghanistan fear that if they talk about the murders it may put relatives they left behind, at risk.
Mahjabin Hakim who was on the girls' national team was beheaded by the Taliban. And gruesome photos of her severed head were posted on social media.
Hakimi was one of the best players in the Kabul Municipality Volleyball Club.
It is not known if she was on the list of names given to the Taliban by the Biden administration. But before America evacuated the capital city of Kabul the Taliban was already searching for female sports players, artists, police officers, and others. They are now purging female lawyers and judges, as well. 
Hakimi's coach, using an alias, told the Persian Independent that she was speaking out to emphasize the risks that all female athletes now face. 
Only two of the women's national volleyball team were able to flee the country. And the remaining women are in hiding, afraid of being killed by the Taliban.
"All the players of the volleyball team and the rest of the women athletes are in a bad situation and in despair and fear," the coach told the paper. "Everyone has been forced to flee and live in unknown places."
.
Handball player also killed by the Taliban
The entire Herat European Handball was left in Afghanistan as the Americans fled. The team tried repeatedly to get out of the country. But they were never allowed in the Hamid Karzai International Airport.
The team knew they would be targeted, as early as April, when national player Nooria Tabesh, was gunned down in her home in the northern province of Sar-e-pul. This happened as the Taliban was starting to gain control of the country. The assailant fled to a nearby Taliban-controlled area after the murder.
"The Taliban asked our players' families to not allow their girls to do sports, otherwise they will be faced with unexpected violence," Fayazi said.
"They even burned their sports equipment to save themselves and their families. They didn't want them to keep anything related to sport. They are scared," she said.
The team received a letter from the  Ministry for the Propagation of Virtue and Prevention of Vice. This is a recently reinstated government office. Its sole purpose seems to be purging and punishing women who are not subservient.
"The handball women's sports team of Herat is warned to give up exercise and must not do further operations," cautions the handwritten letter on official Islamic Emirate letterhead. "If this act is repeated, by the Mujahadeen of the Islamic Emirate, you will be severely punished according to Shariah."
According to Akif Muhajer, the newly appointed head of the Ministry, "women's sports do not have a place in Afghan society."