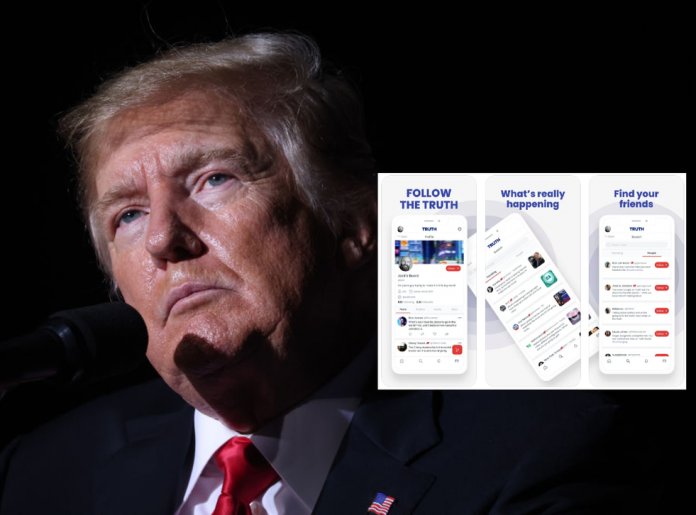 Wednesday night, former President Donald Trump announced his new social media network.  Trump says Truth Social will "stand up to the tyranny of Big Tech." The platform business is being developed by  Trump Media & Technology Group (TMTG) and is being acquired via SPAC by Digital World Acquisition Corp.(DWAC). 
As part of its launch, Trump announced that Trump Media would enter a definitive merger agreement with DWAC that will allow it to become a publicly listed company, subject to regulatory approval.
DWAC was founded in December 2020 for the purpose of acquiring or merging with other companies through the Special Purpose Acquisition Company process.
The newly minted company will operate using funding provided by DWAC's $293 million in cash holdings. 
With news of the merger, shares soared over 400% on Thursday. Trading in the Trump-linked SPAC was halted multiple times due to volatility.
At Fidelity Digital World Acquisition was the most actively traded stock. It was also soaring on the consolidated tape of the New York Stock Exchange and Nasdaq listings. 
More than 260 million shares of DWAC had been traded by midday.
Truth Social beta launch next month
A soft launch of the site for only "invited guests" is scheduled for next month. And the full launch is expected in the first quarter of 2022.
The new app called Truth Social will be soft-launching next month. And its plans include creating a subscription video on demand platform named TMTG+.  The video streaming service will "feature non-woke entertainment programming, news, podcasts, and more." 
"Trump Media & Technology Group's mission is to create a rival to the liberal media consortium and fight back against the 'Big Tech' companies of Silicon Valley, which have used their unilateral power to silence opposing voices in America," said the press release.
The press release says that the planned merger values TMTG at an initial $875 million, with the potential of $825 million in additional earnout for a cumulative valuation of $1.7 billion.
Social media platforms, including Twitter and Facebook, banned Trump from using their platforms.  On January 6th Trump's supporters rioted at Congress. Trump was blamed for the event and Democrats made a 2nd attempt to impeach the former President.
Trump has often claimed that the Taliban and other repressive governments and groups have a voice on social media. And that he is not allowed a platform because his political adversaries want to silence him. He recently brought a class action lawsuit against Twitter, Facebook, Google.
Despite not having help from Big Tech, Trump still holds regular rallies and continues to draw unprecedented crowds.