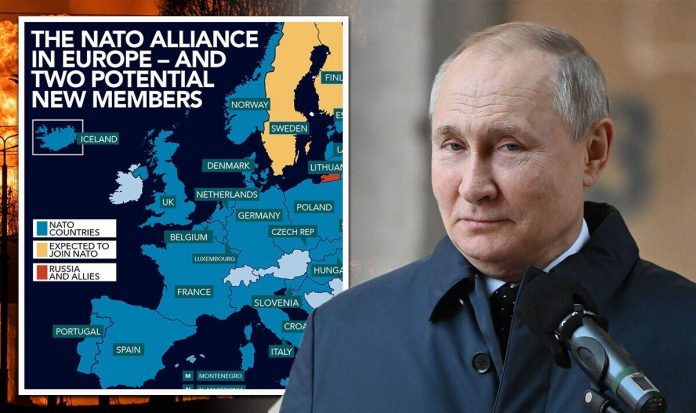 Finland is seeking security from an aggressive Russia with its bid for NATO membership. And Sweden is also expected to join. 
Russia's invasion of Ukraine has frightened the Scandinavian countries. And the need for security has prompted their decision to join NATO.
The two Nordic countries historically do not take sides. Finland has remained neutral in military confrontations since 1948. And Sweden has 200 years of neutrality.
Both countries have small militaries and no real defense against well-armed Russia.
On Sunday, Finland is expected to announce its application to join NATO. Since Finland shares an 833-mile-long border with an aggressive and heavily militarized Russia it is especially vulnerable. And Finland's leaders announced that they were seeking safety from NATO "without delay."
The Kremlin has already issued statements from Russian President Vladimir Putin saying NATO membership for Finland would "definitely" be a threat to Russia, "As we have said many times before, NATO expansion does not make the world more stable and secure."
Various NATO member countries have weighed in.
 Perhaps the most memorable was Croatian President Zoran Milanovic who said, "As far as I'm concerned, they can get into NATO, they can poke the rabid bear in the eye with a pen." 
Fingrid Power cut ahead of NATO membership
Russian energy supplier, RAO Nordic Oy, suspended their export of electric transmission to Finland on Saturday. This comes one day before the Nordic country is expected to announce official plans to join NATO.
"It is at zero at the moment, and that started at midnight as planned," said Timo Kaukonen, the manager for Fingrid.
And the Finnish transmission system operator insists that the Russian import electricity makes up only about 10 percent of the country's consumption.
"The lack of electricity imports from Russia will be compensated by importing more electricity from Sweden and by generating more electricity in Finland," Reima Päivinen, Fingrid's senior vice president of power system operations, said in a statement.
"Finland can cope without Russian electricity, now and even next winter, when the consumption will be higher," Päivinen claims.