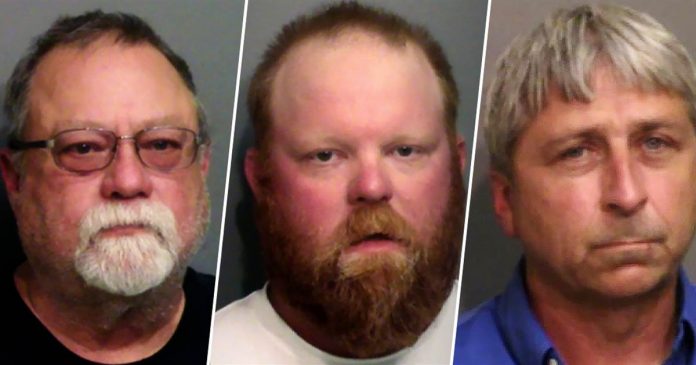 On Wednesday, June 24, a Georgia grand jury returned indictments for three defendants,  in the fatal shooting of Ahmaud Arbery early this year. One of those men, William "Roddie" Bryan Jr., recorded the video that eventually led to the shooters' arrest.
The defendants, Bryan, and Gregory McMichael and Travis McMichael, will face nine counts — malice murder, felony murder (four counts), and aggravated assault (two counts).
Under Georgia law, felony murder applies if a killing results from the commission of an underlying felony. There is no requirement for intent and the minimum sentence if convicted is life in prison with the possibility of parole.
This murder comes at a time when violence and bias against black men and people of color is at the forefront of our nation's minds and hearts. The fact that it took nearly two months for charges to be brought against the shooters, and that those charges were made days after the case was taken over by the Georgia Bureau of Investigations has left many people with questions.
Two months and four prosecutors later
Bryan was arrested two weeks after the McMichaels' — who themselves were arrested nearly two months after the shooting. The Arbery family has asserted that the case has been mishandled from the beginning, having been in the hands of four prosecutors, so far.
One prosecutor said in a statement that the McMichaels were within their rights to make a citizens arrest and called the shooting justified. There were also conflicts of interest within the police department, since Gregory McMichaels was a 20-year veteran of the force.
The GBI is looking into allegations of misconduct by Brunswick Judicial Circuit District Attorney Jackie Johnson, who recused herself from the case because McMichaels had worked in her office.
The current prosecutor, Joyette Holmes, Cobb County District Attorney, said in a press statement, "We will continue to be intentional in the pursuit of justice for this family and the community at large as the prosecution of this case continues."
Vigilante or witness?
The Arbery family, who released a statement through their attorney, believes everyone involved in the shooting of Ahmaud should be held accountable. While Bryan's attorney's assert that he was only ever a witness to the shooting and did not participate in the shooting itself.
Bryan became involved in the incident after he noticed the McMichaels chasing after Arbery, who had been running in the neighborhood. Arbery's family noted that he was an athlete and often ran to keep in shape.
Bryan joined the chase, taking cell phone video and attempting to block Arbery's escape with his vehicle.
Gregory and Travis McMichael claim that they recognized Arbery in connection with a string of burglaries in the neighborhood. Gregory McMichael also told police that Arbery had struggled with his son, Travies McMichael, before the gun went off and Arbery was shot.
Bryan did not attempt to intervene on Arbery's behalf.
In a statement, GBI Director Vic Reynolds, said "As the warrants indicated, he's charged with an underlying felony and he's also charged with felony murder. We believe the evidence would indicate his underlying felony helped cause the death of Ahmaud Arbery."