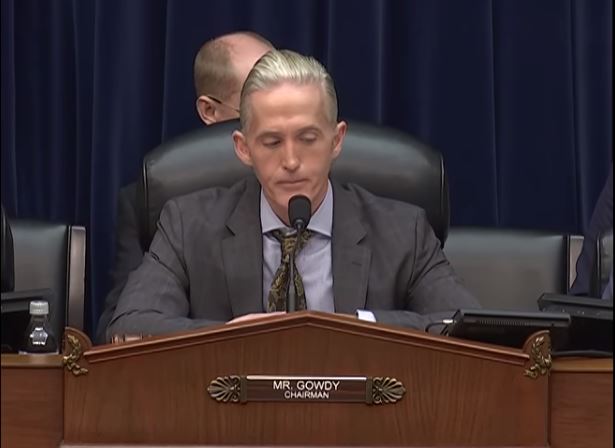 Republican Congressman Trey Gowdy, the chairman of House Oversight and Government Reform Committee, announced his decision to not seek re-election. He is representing the 4th district of South Carolina.
Cong. Gowdy's is the 10th House GOP chairperson leaving the Congress. On Monday, Cong. Rodney Frelinghuysen, the chairman of the Appropriations Committee announced his retirement.
The South Carolina representative is a former prosecutor. In 2014, he led the congressional investigation into the 2012 terrorist attack on the U.S. mission in Benghazi, Libya. Four Americans including Ambassador Christopher Stevens died during that attack.
The investigation revealed that then Secretary of State Hillary Clinton was using a private e-mail server. The FBI investigated her e-mails, and found that she was "extremely careless in handling very sensitive, highly-classified information."  However, the agency did not find evidence that support bringing criminal charges against her. The e-mail controversy hurt Mrs. Clinton's presidential campaign.
Cong. Gowdy will return to the justice system
In a statement on Wednesday, Cong. Gowdy said he is leaving politics to return to the justice system. He believes that it is better to use his skills in the courtroom than in Congress.
"I enjoy our justice system more than our political system. As I look back on my career, it is the jobs that both seek and reward fairness that are most rewarding," said Cong. Gowdy.
Additionally, the congressman said, "There is no perfect time to make this announcement, but with filing opening in six weeks, it is important to give the women and men in South Carolina who might be interested in serving ample time to reflect on the decision."
Steve Stivers, the chairman of the National Republican Congressional Committee (NRCC) commented that Cong. Gowdy "exemplifies the persona of a public servant."  Stivers also expressed confidence that the GOP will keep control of the 4th district of South Carolina