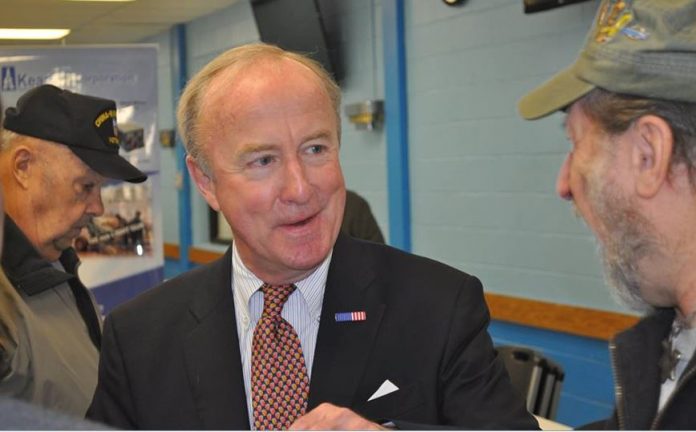 Republican Congressman Rodney Frelinghuysen, the chairman of the powerful House Appropriations Committee decided to retire from his position. Frelinghuysen is representing the increasingly competitive 11th congressional district of New Jersey.
In a statement on Monday, Frelinghuysen announced his decision to not seek re-election this year.  "Today as I announce my retirement at the end of this session of Congress…In my role on the House Appropriations Committee, I made sure that New Jersey's needs were met."
Additionally, Frelinghuysen said this year, his singular focus as chairman of the Appropriations Committee is "getting our work done." According to him, "We completed 12 appropriations bills left over from 2017. We passed all 2018 bills in record time through regular order and three Disaster Supplemental Appropriations bills…"
Furthermore, he expressed determination to finish the FY18 bills and pass the FY19 bills through regular order in his last year as chairman.
Finally, Frelinghuysen said, "I have worked in a bipartisan manner, not just in times of crisis but always, because I believe it best serves my constituents, my state and our country. My father reminded me often that we are temporary stewards of the public trust.  I have sincerely endeavored to earn that trust every day…"
Frelinghuysen joins a growing list of retiring Republicans
Frelinghuysen joins the list of House Republican members and chairmen who have announced their retirements.
Early this month, House Foreign Affairs Committee Chairman Ed Royce said he will retire by the end of 2018. The other retiring House GOP chairs include:
Jeb Hensarling, chairman if the House Financial Services Committee
Dianne Black, chairwoman of the House Budget Committee
Bob Goodlatte, chairman of the House Judiciary Committee
Bill Shuster, chairman of the Transportation Committee
Lamar Smith, chairman of House Science, Space and Technology
Gregg Harper, chairman of House Administration Committee
In June last year, Rep. Jason Chaffetz, the chairman of the House Oversight and Government Reform Committee, resigned. He is now a Fox News contributor.
Some Republican representatives such as Trent Franks of Arizona and Pat Meehan of Pennsylvania resigned because of sexual harassment allegations.
At present, 40 House Republicans already announced their intentions to retire, resign, or vacate their positions to run for higher office in the 115th Congress. Two weeks ago, Congresswoman Martha McSally decided to run for the Senate to replace retiring GOP Senate Jeff Flake of Arizona.