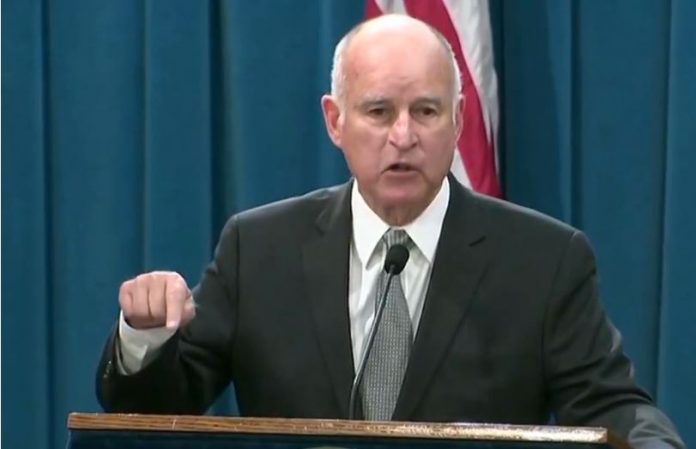 Governor Jerry Brown fired back at U.S. Attorney General Jeff Sessions and called his allegations against California a lie.
On Wednesday, AG Sessions announced that the Department of Justice (DOJ) sued California over its sanctuary policies. He argued that the state violated the Supremacy Clause of the U.S. Constitution.
In addition, the U.S. Attorney General claimed, "California is using every power its has, powers it doesn't have, to frustrate federal law enforcement.  He called the state's three laws—AB 450, AB 103, and SB 54 "irrational, unfair, and unconstitutional."
During a press conference at the state Capitol in Sacrament, Gov. Brown immediately responded to AG Sessions attack. He described the U.S. Attorney General's action "more like Fox News than a law enforcement officer" and a "political stunt."
In addition, the California governor said AG Sessions has "no regard for the truth." His statements about the state is "not true. It is a lie."
Furthermore, Gov. Brown speculated that the U.S. Attorney General is trying to keep his job because President Donald Trump is not happy with him.
Over the past several months, Pres. Trump repeatedly criticized AG Sessions for recusing himself from the Russia probe. He also blasted the U.S. AG for his handling of the FISA abuse allegation. The President called his action "disgraceful."
Gov. Brown said, "I assume, and this is pure speculation, that Jeff thinks that Donald will be happy with him. Let's face it, the Trump White House is under siege. Mueller is closing in. There are more indictments to come."
Gov. Brown says AG Sessions should apologize to Californians
Moreover, the governor said the federal government should do its job and should not blame California for its inability to solve a problem whether a crime or immigration problems.
Gov. Brown pointed out that the U.S. Attorney General shouldn't be coming out to California for a "political show." He wants him to apologize to Californians for bringing the "mendacity of Washington" and trying to insert "discord and division" as well as "disfunctionality" in the state.
The governor said the DOJ's litigation  is "basically going to war against the state of California."  He also predicted,"This lawsuit is going to last a lot longer than the Trump administration."