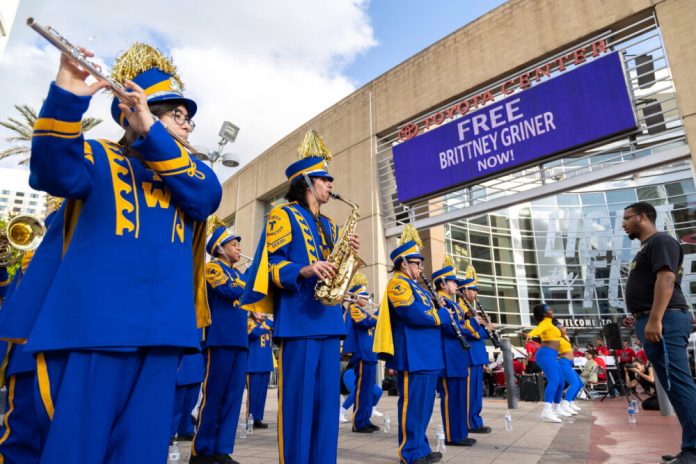 There was a "Free Brittney Griner rally at the Toyota Center in Houston. The WNBA star has been detained in a Russian prison for over 100 days.
Congresswoman Sheila Jackson Lee organized the event with the NBA. Brittney Griner is a Houston native. She is a women's basketball superstar and an advocate for at-risk and LGBTQ youth.  
Two weeks before Russia invaded Ukraine, Griner was arrested at a Moscow airport. The US and Russia were in a stand-off over Ukraine, at the time she was detained. And the news didn't leak out till March 7th after Putin began his invasion of Ukraine.
As of May 3, the U.S government has classified Griner's arrest as a "wrongful detainment." The U.S State Department has also called getting Griner back on U.S. soil a "top priority,
Players from around the WNBA have been becoming more outspoken recently. And they have organized social media campaigns pushing for her release.
Free Brittney Griner event draws hundreds of fans
On Monday, the NBA called for Griner's release. The Houston Rockets showed their support by holding a vigil which drew hundreds to the Toyota stadium.
Houston's Mayor, Sylvester Turner along with the Rockets head coach Stephen Silas, assistant coach John Lucas, and president of business operations Gretchen Sherer were all on hand.
Mayor Turner spoke about Griner's contributions to the Lone Star State. And declared Monday "her day."
"This is someone who has given everything to this city, to this state, and to this country, somebody who went to the Olympics in 2016 and 2020 and won the gold, somebody who seven times has been (an All-Star)," Turner said.
 "The WNBA is here. The NBA is here. People from all parts of our city are here. I just want to join the chorus to say, 'Bring Brittney home. And bring here home now.'"
"I proudly proclaim this day as Brittney Griner day in the city of Houston," Houston Turner said. "Bring Brittney home."
Cherelle Griner, Brittney's wife, was live-streamed into the stadium. And is urging that additional action be taken to get her wife home.
Trevor Reed advocates 
Another Texan, Trevor Reed, a United States Marine Corps veteran who was detained in Russia for three years before being released in April spoke at the event.
He described having to eat rotten food and not receiving much-needed medical care during his time in prison.
"Every day that you're in prison there, it's like you're waking up to a nightmare," Reed said to a crowd at the rally.
Reed also spoke out on behalf of Paul Whelan, another American detained in Russia. But believes that Griner may be in a more precarious position. And Griner faces greater challenges since she is both Black and gay. Saying Russia "systematically discriminates" against people who are Black or LGBTQ.
"There is no justice in Russia," he said. "Brittney and Paul will not receive justice in Russia. They're not going to receive a fair trial; they will not receive a fair investigation. They will be there as hostages until the United States gets them out."
"Write them, call them, annoy them, don't leave them alone," he said. 
"Tell them you want Brittney home, and you want the rest of the Americans who are being wrongfully detained home, and you want it done now."
She was returning to Russia to play for the UMMC Ekaterinburg in the Russian basketball league. And is being accused of running an international drug cartel. 
According to the Russian customs statement a case involving Griner "has been opened into the large-scale transportation of drugs," which can carry a jail sentence of up to 10 years in Russia.