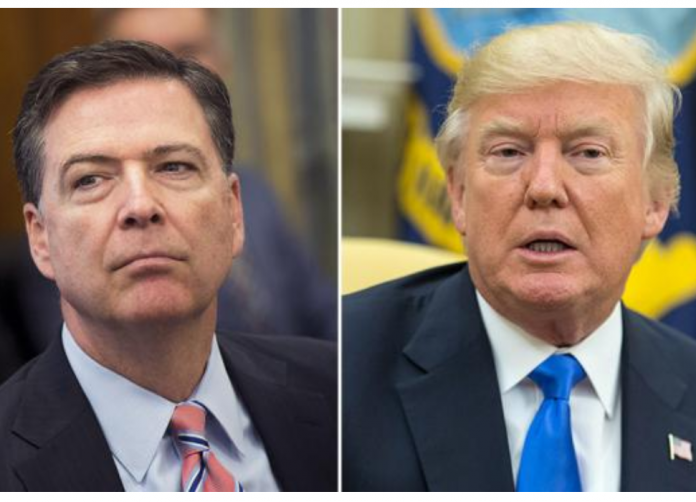 On Saturday, former FBI director James Comey took to Twitter to deliver a message to President Trump, reports The Hill.
Comey to President Trump
The President and former FBI director have an interesting political history with one another. Last year, President Trump fired Comey from his position as the FBI director. Although Christopher A. Wray succeeded Comey, the latter has not faded from the political scene.
In June 2017, Comey testified before the Senate Intelligence Committee. Many Americans viewed the aforementioned testimony as potentially harmful to President Trump. During the session, Comey stated that the President asked him to "pledge his loyalty."
However, President Trump controverted the foregoing claims, dismissing Comey as a "leaker." The President even affirmed his willingness to testify under oath regarding his conversations with the former FBI director. Months after Comey's preceding testimony, Americans learned of his now upcoming book which will detail his experience of serving as the FBI director.
Comey's forthcoming book, 'A Higher Loyalty: Truth, Lies and Leadership' may explain his latest statement to President Trump. Yesterday, the former FBI director wrote the hereinafter post on Twitter:
Mr. President, the American people will hear my story very soon. And they can judge for themselves who is honorable and who is not.

— James Comey (@Comey) March 17, 2018
More on Comey's Remarks
The recent statements of James Comey followed after Attorney General Jeff Sessions fired (now former) FBI Deputy Director Andrew McCabe. After Comey's termination as FBI director, McCabe filled in as acting FBI director. The Attorney General cited dishonesty with investigators and unapproved communications with the press as the reasons behind McCabe's termination.
However, McCabe has countered the claims of the Attorney General:
"It was not a secret, it took place over several days, and others, including the director, were aware of the interaction with the reporter. It was the type of exchange with the media that the deputy director oversees several times per week. In fact, it was the same type of work that I continued to do under Director Wray, at his request."
On Friday, President Trump also took to social media to express his thoughts regarding McCabe's firing:
Andrew McCabe FIRED, a great day for the hard working men and women of the FBI – A great day for Democracy. Sanctimonious James Comey was his boss and made McCabe look like a choirboy. He knew all about the lies and corruption going on at the highest levels of the FBI!

— Donald J. Trump (@realDonaldTrump) March 17, 2018
As the details of McCabe's termination make the rounds in the press, Americans are weighing in with their thoughts and feedback.
President Trump has not yet responded to the aforementioned remarks of James Comey. The longevity of this remains to be seen.