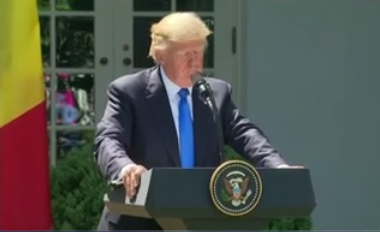 Mere hours ago, President Trump held a conference at the White House regarding yesterday's testimony of former FBI director James Comey. A great majority of Americans tuned in on Thursday when Comey testified in front of the Senate Intelligence Committee. He was required to answer a series of questions related to his prior relationship with President Trump, the nature of his termination, and matters related to the White House. Earlier today, when the President was asked whether or not he was willing to testify under oath, he responded with a resounding "one hundred percent." The Senate Intelligence Committee's tactic to use Comey's testimony as ammunition against President Trump was apparent to many Americans.
When the President was asked whether he requested that Comey "pledge his loyalty," he rebutted. He followed by stating that he barely knew the former FBI director. The President also denied allegations that he asked Comey to halt the FBI's investigation into the former national security adviser. The fact of the matter is this: establishment groups on both sides of the aisle have failed to obtain real evidence of any wrongdoings by the President, so they are now reduced to conspiracy theories and misrepresentations. President Trump would have absolutely no reason to request Comey to "pledge his loyalty"; the mere notion is absurd beyond belief.
The President also went on to state that Comey was a "leaker." "No collusion, no obstruction, he's a leaker," President Trump said very matter-of-fact tone. According to reports by ABC News, the President's personal lawyer will be filing a compliant with the Department of Justice. A request will be made for them to investigate Comey for leaking memos and conversations that he had with President Trump. New speculations have arose as to whether or not there are existing tapes which contain the content of the discussions. However, Comey's testimony on Thursday states that he shared conversations with the President with a "close friend." He goes on to affirm that he wanted the memos "out in the public square." Apparently, engaging in this course of action breached no laws, but it makes the President's choice to censure Comey quite understandable.
CNN reports that Comey's testimony may have adverse impacts on the White House. While answering questions, Comey alleged that the President's private remarks influenced him to warn his colleagues at the Justice Department to "be careful." Comey also noted his decision to record the discussions he had with the President and other White House officials; his reason for this course of action was attributed to his worries that White House officials would lie about the nature of the conversations had they not been documented.
James Comey's testimony to the Senate Intelligence Committee definitely made matters in Washington more interesting. There is no doubt that his answers will be used as ammunition by the special counsel engaging in the witch hunt of what they believe to be Russia's involvement in the 2016 Presidential election. There has been no evidence indicating the President's wrongdoing on any level. As he stated during today's conference, he is "one hundred percent" willing to testify under oath about conversations he had with James Comey.