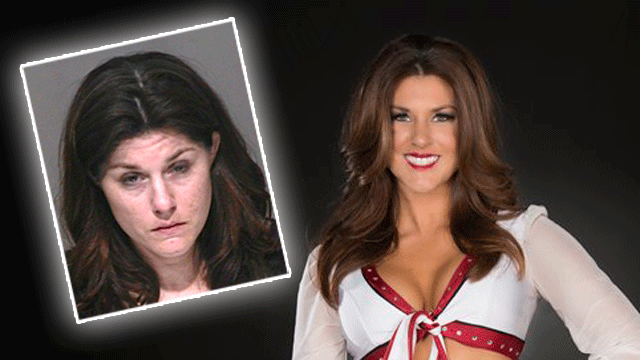 Despite being called out for its previous questionable attempts at Internet censorship, an Arizona law firm has moved on from the small fries and now has its sights on deindexing a few bigger fish from Google: ABC, Daily Mail, BarStool Sports, AVVO, and Fox News to name a few.
A recent court filing shows Scottsdale's Kelly/Warner Law Firm is involved in what appears to be another fraudulent internet defamation case, one that attempts to de-index web content and censor the Internet (See the full fake lawsuit filing here). Though previous cases were filed on behalf of shady characters looking to remove websites such as RipOffReport from Google, Kelly/Warner's latest was filed on behalf of a former NFL cheerleader—and a pretty famous one at that.
The Fall from Grace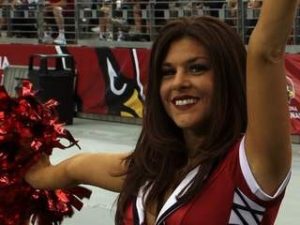 Megan Welter rose to fame in 2013 when she was named an Arizona Cardinals Cheerleader. An Iraq war veteran and long-time Army reservist, Welter's story was a rare one, and the public took interest almost immediately.
But a few weeks and a domestic violence call later, Welter's star fell. On her birthday in August 2013, Welter called the Scottsdale police to the home she shared with then-boyfriend Ryan McMahon, a professional fighter. Hours later, it was Welter who left in handcuffs, when McMahon showed police a cell phone video of her scratching, hitting and yelling at him over a text message.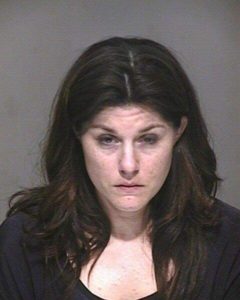 Both local and national media covered Welter's arrest and subsequent fall from fame heavily in the weeks following the incident, and now, Welter has retained Kelly/Warner to get that media coverage wiped from the annals of the Internet.
According to the recent court filing we received, Welter has filed a defamation suit and is seeking injunction against dozens of major media companies and websites, including ABC News, ABC 15, Daily Mail, Fox News, YouTube, Heavy.com, Fox Sports, NY Daily News and more. There are even a number of Twitter updates, Reddit threads and Pinterest pins named in the filing.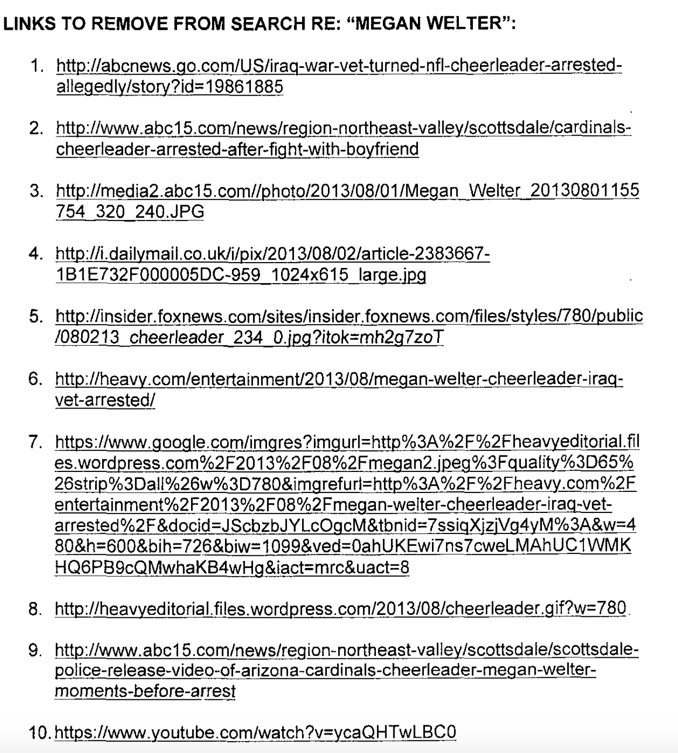 The filing reads, "Defendants posted voluminous false, damaging, misleading and defamatory statements about Plaintiff on the Internet, located at numerous web links, and making a variety of untrue and damaging statements and implications aimed at Plaintiff."
Here's are some the articles the filing tried to remove from Google:
In addition to the injunction "compelling Defendants to remove from the Internet all material pertaining to the Plaintiff," Welter is also seeking general, special and punitive damages.
More interesting than the media outlets Welter's claim is trying to stifle is the way that Kelly/Warner Law Firm attempted to remove the links from Google:
Welter filed a defamation lawsuit against McMahon, and McMahon submitted a stipulation saying that his original allegations were false. (It is impossible to tell from the record whether the signer of the stipulation was indeed the real Ryan McMahon, but let us assume that he was.)
Welter then got an injunction stating that McMahon's allegedly defamatory statements were posted on ABC News, Fox Sports, CBS News and USA Today, presumably because articles on those sites were based on those statements. And the injunction stated that defendant must take all actions, "including requesting removal of the URLs from all internet search engines … to remove all such webpages and cache from the Internet, such that the Content is rendered unsearchable." Again, because this was a stipulated judgment, there was no factual determination of whether McMahon's statements were actually defamatory. For a similar example, see Desert Palm Surgical Group v. Petta, which was used to try to deindex a CNN Money article. – Eugene Volokh of The Washington Post
A Workaround
A self-proclaimed online defamation law firm, Kelly/Warner is no stranger to suits of this kind. The firm has made a name for itself in recent years, listing fictitious defendants on a number of cases as a sort of workaround toward Internet censorship.
Not surprisingly, the web has long been a tricky place to navigate legally—at least when it comes to libel and defamation suits. Getting sites to remove URLs is one matter, but to get Google and other search engines to de-index them is near impossible without a court order.
The Washington Post's Eugene Volokh, who originally uncovered the questionable ways of Kelly/Warner, put it best: "If you send Google a court order finding the material on some pages to be defamatory, Google will consider deindexing those pages, on the theory that the court order is fairly reliable evidence that the pages are indeed inaccurate and libelous. But the consequence is that people have been using various stratagems to deindex material even when there's little reason for such confidence."
That's what Scottsdale's Kelly/Warner has allegedly been up to—particularly on cases that pertain to content on mainstream media sites, which Google is always hesitant to de-index.
According to Volokh, it works like this: "They (a) sue the people quoted in the articles, (b) get stipulations from the people recanting their allegations, (c) get court orders based on those recantations and then (d) try to use those court orders to deindex an entire article."
The firm has used similar methods on recent cases like Chinnock v. Ivanski and Lynd v. Hood, even going so far as to use fake notaries—in addition to fake defendants—on the court filings. Kelly/Warner has even filed defamation claims to have reviews of its own attorneys removed from the web in the same fashion.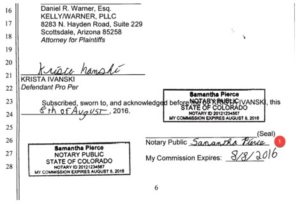 It's unclear whether Welter knows the extent to which Kelly/Warner has bent the law in their—and her—favor, and she may even be unaware of the tactics the firm is using to clear her name. Still, the questionable tactics are obvious throughout her filing, with former boyfriend McMahon recanting his statements and dozens of media outlets listed on the injunction.
Silencing the Media
While the legal tactics of Kelly/Warner are certainly worrisome, the bigger issue is what it means for online media. The firm's short-cut methods toward censorship not only eliminate the court's ability to judge on libelous content, but they also shortchange a media organization's ability to review, revise or recant its stories independently—a long-held power that ensures reporters do due diligence in their coverage.