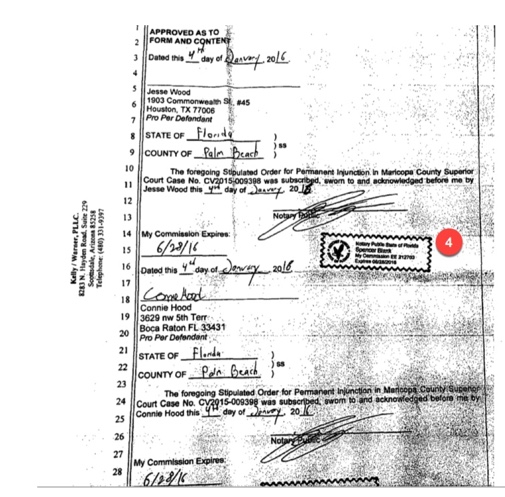 According to Rick DeBruhl, Chief Communications Officer of the State Bar of Arizona, Attorney Daniel Warner is currently under investigation by the Arizona Bar. The Arizona Bar is also considering whether to launch an investigation on Warner's partner, Attorney Aaron Kelly, in which we will cover in a follow-up story.
This investigation may have been prompted by a formal complaint filed by Eugene Volokh, a frequent contributor to the Washington Post.
In an article published recently in the Washington Post, Volokh describes how Attorney Daniel Warner and his partner Aaron Kelly have engaged in litigation that seems to be fraudulent. The purpose of the lawsuits? To "trick" Google into removing negative articles and comments from their search results about people accused of very serious crimes and other misdeeds.
Eugene Volokh wrote an article last year describing how certain lawyers and their clients are using less-than-legal methods to remove damaging information from Google's search results. As a result of his discoveries, he began investigating Daniel Warner and Aaron Kelly's connections to alleged court fraudster Richart Ruddie, publishing his findings here.
We are going to break down the details of the alleged fraud that has taken place here, and will dig a little deeper into a few connections that were not fully made in the Washington Post article.
Let's start with Aaron Kelly and Daniel Warner. These two, through their firm Kelly/Warner Internet Law, specialize in "internet defamation law and reputation management."
On their website, KellyWarnerLaw.com, they state:
"As one of the first firms to concentrate on Internet reputation legalities, Kelly / Warner has assisted hundreds of businesses and individuals with various online defamation challenges. We represent businesses, professionals, and persons who've been unfairly disparaged online."

On their website, they also mention that the truthfulness of the "defamation" is not always important. "You've heard the saying:  'it's not defamation if it is true.' And yes, for the vast majority of slander and libel lawsuits, this adage holds true – but not always."
It would be hard to dispute that both Warner and Kelly advertise themselves as experts at internet defamation. They imply as much and claim to know exactly what processes to take when removing content from Google.
"We know how to get disparaging, negative comments removed from the Web – quickly." – Daniel Warner & Aaron Kelly
The rapid way that information is shared, re-shared, and spun across the internet has resulted in the rise of attorneys that specialize in "removals" of internet defamation from Google. The services provided by these law firms has become more important than ever to large corporations and public figures.
We published an article earlier this year discussing Yelp's fight to protect themselves and consumers from being muscled around by these firms. Indeed, it has become much more difficult to get negative content removed from the internet. These days, internet defamation attorneys have to take a different approach to remove this content. How do they do this?
According to InternetLiveStats.com:
"Google now processes over 40,000 search queries every second on average, which translates to over 3.5 billion searches per day and 1.2 trillion searches per year worldwide."
Billions of users each day begin their search for information on Google, so many attorneys have begun focusing on removing content from Google rather than taking down the original source, reducing the majority of negative exposure to damaging content.
Law firms do this by filing an injunction on the creator of the content for libel or defamation. If the court files an injunction order, Google will, in most cases, de-index the content from being found on their search engines.
According to Volokh's article, "…one danger with this practice, as we've seen, is that it leads to an incentive for unscrupulous people — whether plaintiffs, their lawyers or reputation-management companies hired by the plaintiffs (and potentially working out the details without the plaintiffs or the lawyers' knowledge) — to file lawsuits against fake defendants."
Volokh, a UCLA Law Professor, in his research, found multiple lawsuits that were filed by Daniel Warner and Aaron Kelly that appear to have fake, non-existent defendants & have fake notarizations. Let's take a look at these suits:
Lawsuit 1 – Chinnock v. Ivanski
Joseph Chinnock, AKA Joel Cassaway, hired Attorney Warner to deindex (remove) 39 website listings from Google that cast him as a scam artist that harmed multiple people over a span of several years.
Attorney Warner then filed a lawsuit against a person located in Turkey named "Krista Ivanski."  The lawsuit claimed that Krista Ivanski was responsible for publishing all 39 of the different  "defamatory website listings" across websites like RipOffReport, Scam Exposure, USA Complaints, and more.
This is a highly improbable scenerio that someone named "Krisa Ivanski" from Turkey wrote all 39 of the different complaints across many unique websites over a 5+ year period…rather the links appear to have clearly been written by different people over that 5+ year time frame that were all harmed by Chinnock from a multitude of different experiences, some of which resulted in real litigation.
In addition to the fact that the alleged defendant is from Turkey, left no address of record, and appeared pro se. Ivanski was also willing to admit to the liability just shortly after the lawsuit was served.
Kristin Ivanski appears to be a non-existent person that was contrived for the sole purpose of removing the negative information online about Joseph Chinnock.
Just as alarming, it appears as if the notary for Attorney Warner's lawsuit is fake as well. There is no "Samantha Pierce" registered as a notary public in the State of Colorado and the Notary ID used is 20121234567. No such seal or notary exists in Colorado.
In fact, the Notary ID 20121234567 with the expiration date of August 8, 2016 was likely pulled from the Colorado Secretary of State website where it is used as an explanation to notaries as to how they should format their seals.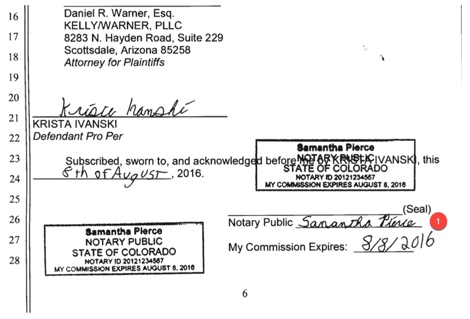 Digging deeper, we noticed that Krista Ivanski and Samantha Pierce have signatures that are strikingly similar, one significant similarity being the very distinguishable way that the "i" is dotted.