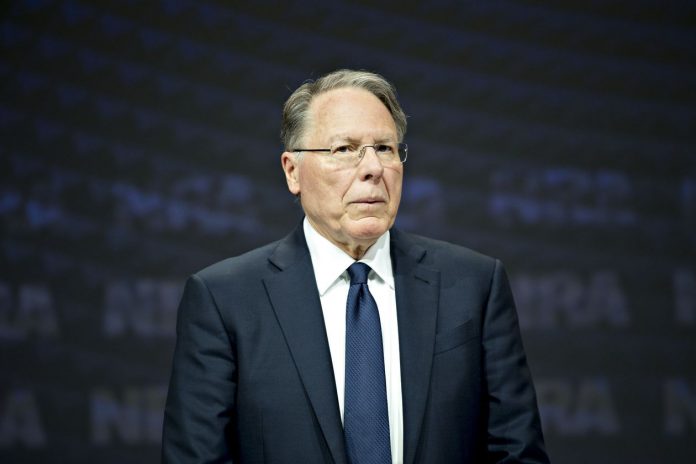 National Rifle Association (NRA) CEO Wayne LaPierre is under investigation by the Internal Revenue Service (IRS) over allegations of tax fraud. People familiar with the matter claimed that the allegations are centered around Lapierre's personal taxes, according to an exclusive report by the Wall Street Journal.
LaPierre acted as the charismatic head of the NRA for over three decades, building a strong pedigree as a staunch gun rights advocate, often a target of the left and anti-gun lobby.
An outspoken advocate such as LaPierre makes for a ripe target, which New York's Attorney General Letitia James made clear in an August lawsuit aiming for the dissolution of the organization following claims that it diverted millions of dollars worth of funds for the aggrandizement of close associates and relatives of LaPierre.
The Attorney General's lawsuit alleged that the NRA under LaPierre and three other senior officials "instituted a culture of self-dealing, mismanagement, and negligent oversight at the NRA," violating numerous federal and state laws.
NRA president Carolyn Meadows responded by characterizing the suit as "a transparent attempt to score political points and attack the leading voice in opposition to the leftist agenda. This has been a power grab by a political opportunist—a desperate move that is part of a rank political vendetta."
In addition to a fiery response, the NRA filed an injunction in the U.S. District Court for the Northern District of New York against Attorney General James.
A separate lawsuit launched by the Washington, D.C. Attorney General echoes the New York AG's lawsuit, arguing that the organization improperly used funds for "non-charitable purposes."
Since early last year, the NRA made headlines marred with allegations of spurious activity on the part of LaPierre and his associates. For one, Attorney General James' lawsuit claimed that LaPierre spent $3.6 million of NRA funds on travel consultants, went jet setting with family members on private planes, and even secured a $17 million post-employment contract without seeking board approval.
It has also been reported that LaPierre took more than eight trips to the Bahamas since 2015 by private air charter, bringing his family members along with him. The trip reportedly generated a price tag of $500,000.
To make matters worse, recent releases of the Attorney General's 164-page report on illicit activity show that LaPierre spent millions of dollars of NRA funds on annual basis for his own security and received roughly $1.2 million in expense reimbursements.
In 2018, Lapierre's pay rose by a staggering 55% to $2.2 million, which James alleged is grossly inflated beyond standard practices.
LaPierre defended himself against the attacks, saying that the NRA is "well governed, financially solvent, and committed to good governance. We're ready for the fight. Bring it on."
—————————————
Have a story you want USA Herald to cover? Submit a tip here and if we think it's newsworthy, we'll follow up on it.
Want to contribute a story? We also accept article submissions — check out our writer's guidelines here.