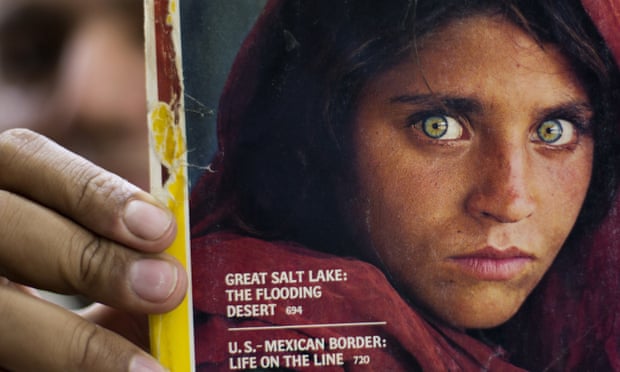 When the US left the women in Afghanistan were being identified and attacked by the Taliban. In the Biden administration's desperate escape from Afghanistan, they shut the door behind them.
They left billions of dollars worth of equipment, hundreds of Americans, and a generation of Afghan women. Especially at risk were women that thrived when the US. controlled the country. Women athletes, doctors, attorneys, and activists were fleeing for their lives. Many women with high-profiles had to go into hiding.  
In 1985 the National Geographic magazine's cover was of the  green-eyed "Afghan Girl." Sharbat Gula is in her late 40's now. And she counts herself as one of the 'lucky ones.  As the Taliban took over, Gula made it as far as Pakistan. And in the last week of November, the Italian government confirmed that she is safe in Italy.
Mahjabin Hakim was not so fortunate. Hakim was on the girls' national volleyball team. She was beheaded by the Taliban. And gruesome photos of her severed head were posted on social media.
The Secret purge of women in Afghanistan
But many of the at-risk women are just disappearing. Sometimes their bodies are found later. Safi disappeared in late October. Her body was discovered in November. 
Frozan Safi, 29, was a very visible women's rights activist. She was educated and worked as an economics lecturer. 
Frozan received a call from an unknown number. She thought her request for asylum had come through. She was told to gather proof of her work as a rights defender. And directed to head to a safe house.
The woman put some documents, including her university diploma, into a bag. She put a  black and white scarf over her head and left. 
Weeks later her sister Rita, a doctor, identified Frozan in a morgue in Mazar-i-Sharif.
Rita said, "There were bullet wounds all over, too many to count, on her head, heart, chest, kidneys, and legs." Her engagement ring along with her bag was missing.
On Thursday, Taliban security forces brought the bodies of four people. Two men and two women were shot dead. When the unidentified bodies arrived at the Balkh provincial hospital,  Zabihullah Noorani, the Taliban's director for information and cultural affairs in Balkh suggested they were victims of a "personal feud". 
Taliban Crackdown on women
The Taliban is sticking to their often stated beliefs. Women journalists are now forced to wear a hijab. And Afghan broadcasters have been mandated to cease showing dramas where females have lead roles.
Girls are no longer allowed to attend secondary schools. The new all-male government is banning women from most sports and work. Educated and professional women are no longer allowed to participate in society. 
 Since mid-August, there have been regular, nationwide protests against the Taliban. The women who have grown up enjoying largely equal rights. Under the Taliban, they are demanding that their rights be restored and protected.
On Thursday Human Rights Watch claimed the Taliban has rules prohibiting most women from operating as aid workers in the country. And the humanitarian disaster is growing.
Extremists are cracking down on dissent. Afghan women are being beaten with electric batons. Reporters who cover the women's protests are being detained and tortured.
It does feel like the "Afghan Girl," Sharbat Gula is indeed one of the lucky ones.