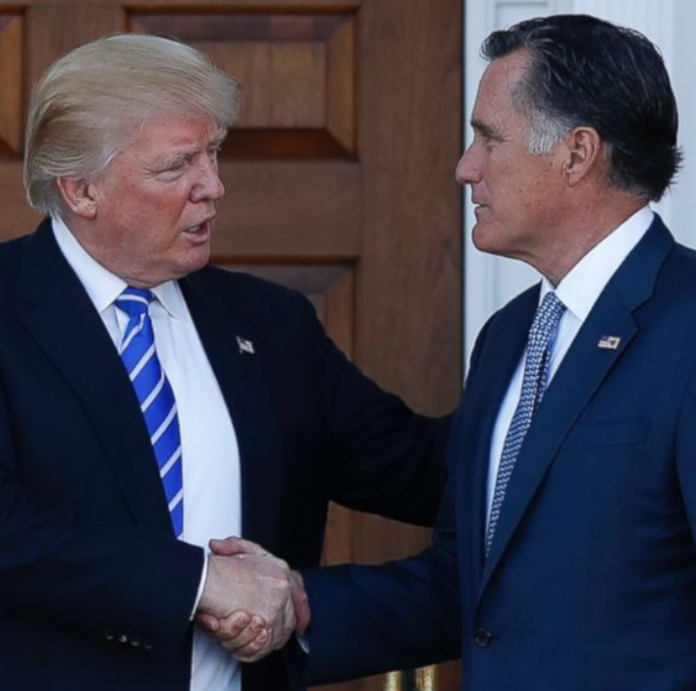 On Monday, President Trump raised many eyebrows by endorsing Mitt Romney, a new candidate for the Utah Senate seat, reports Breitbart News.
I am running for United States Senate to serve the people of Utah and bring Utah's values to Washington. pic.twitter.com/TDkas6gD2p

— Mitt Romney (@MittRomney) February 16, 2018
An Overview of Trump and Romney
The political correspondence between then-future President Trump and Mitt Romney became strained during the 2016 Presidential election. Romney repeatedly vocalized his disapproval of President Trump and even urged the GOP to nominate one of the other candidates. Then, after President Trump secured the Republican nomination, Romney opined that a Clinton victory would follow.
President Trump did not hesitate to respond to Romney's criticism. The Commander-in-Chief slammed Romney as a " stone cold loser" and a "choker." He furthermore opined that "chokers" should not be given "second chances."
However, President Trump and Mitt Romney appear to have put differences aside. During the Georgia Special Elections, Romney defended President Trump, much to the surprise of many Americans.
The President's endorsement of Romney occurred via Twitter:
.@MittRomney has announced he is running for the Senate from the wonderful State of Utah. He will make a great Senator and worthy successor to @OrrinHatch, and has my full support and endorsement!

— Donald J. Trump (@realDonaldTrump) February 20, 2018
Romney also responded via Twitter, thanking President Trump for his endorsement:
Thank you Mr. President for the support. I hope that over the course of the campaign I also earn the support and endorsement of the people of Utah.

— Mitt Romney (@MittRomney) February 20, 2018
America's Response to President Trump's Pro-Romney Endorsement
President Trump and Mitt Romney may have put their differences aside, but not all Trump supporters share the same amicable feelings regarding Romney. Much of the President's base viewed his endorsement as problematic. They furthermore did not hesitate to express concerns via Twitter:
You're on your own on this one.

— MAGA PILL 🇺🇸 www.MAGAPILL.com (@MAGAPILL) February 20, 2018
— thebradfordfile (@thebradfordfile) February 20, 2018
However, other Trump supporters slammed their displeased counterparts, citing the endorsement as "fine," or suggesting that the President happens to be making moves in a bigger game:
He is playing his game, let him do what he needs to do. POTUS will make Romney his b*tch just like Louis VX did with his aristocrats.

— Stephanon Dillirion (@Stevanon_D) February 20, 2018
Trump supporters who are flipping out over him endorsing Romney seriously need to get over themselves. I think the endorsement is fine. I also think that many people on both the left and the right simply want something to be offended about.

— Gabrielle Seunagal (@__ClassySnobbb) February 20, 2018
Like Twitter users, the feedback from Breitbart News readers came in a mixed bag. Some Americans are OK with President Trump's endorsement, while others remain "deeply disappointed."
"Trump endorses Mitt Romney? Thought Trump was smarter than that."
"Trump is smart enough to know Republicans have to get the Mormon vote. Politics is all about compromise whether we like it or not."
"I love Trump, but this deeply disappoints me. For crying out loud. Romney is as deep state, NWO, Never Trumper as you can get."
Mitt Romney is currently running against Democrat Jenny Wilson. Whether or not Romney or Wilson will secure the Utah Senate seat remains unknown. Many Americans view President Trump's endorsement as somewhat of a wild card.
Votes for the U.S. Senate elections shall be cast on Tuesday, November 6, 2018.