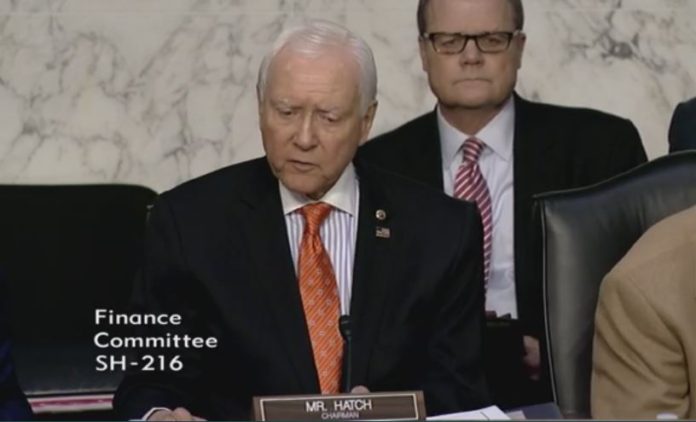 U.S. Senator Orrin Hatch of Utah announced his decision to not seek re-election at the end of his term this year. Hatch is the longest-serving Republican in the Senate. He is the chairman of the Senate Finance Committee.
Last month, President Donald Trump encouraged Hatch to run for another term. He told the Utah senator, "We hope you will continue to serve your state and your country in the Senate for a very long time to come."
In a video message on Tuesday, Hatch said, "When the president visited Utah last month, he said I was a fighter. I've always been a fighter. I was an amateur boxer in my youth, and I brought that fighting spirit with me to Washington. But every good fighter knows when to hang up the gloves. And for me, that time is soon approaching."
Additionally, the Utah senator said he made his decision to retire after "much prayer and discussion with family and friends." Hatch is 83 years old and he wants to spend more time with his family especially with his wife.
An announcement from Senator Orrin G. Hatch. #utpol pic.twitter.com/UeItaLjR3j

— Senator Hatch Office (@senorrinhatch) January 2, 2018
Political observers suggest that his retirement opens the door for Mitt Romney to run for his seat. The 2012 Republican presidential nominee previously indicated that he will run for the seat if Hatch will retire. In March, the Utah senator told the National review that Romney will be "perfect" for the Senate.
David Hansen, a longtime Utah Republican strategist and chairman of Hatch's political organization, told The New York Times, "It would be difficult to defeat Mitt Romney" if he will run in the state.
Trump is very sad to see Hatch leave the Senate
During a press briefing, White House Press Secretary Sarah Huckabee Sanders said Pres. Trump is "very sad" that Hatch decided to retire. According to her, the President has the "greatest and deepest amount of respect" for the senator.
In addition, Sanders said Pres. Trump is thankful for Hatch's leadership and massive effort to pass the tax legislation.
"The president certainly praises his service and is very sad to see Sen. Hatch leave, and knows he will be certainly missed," said Sanders.