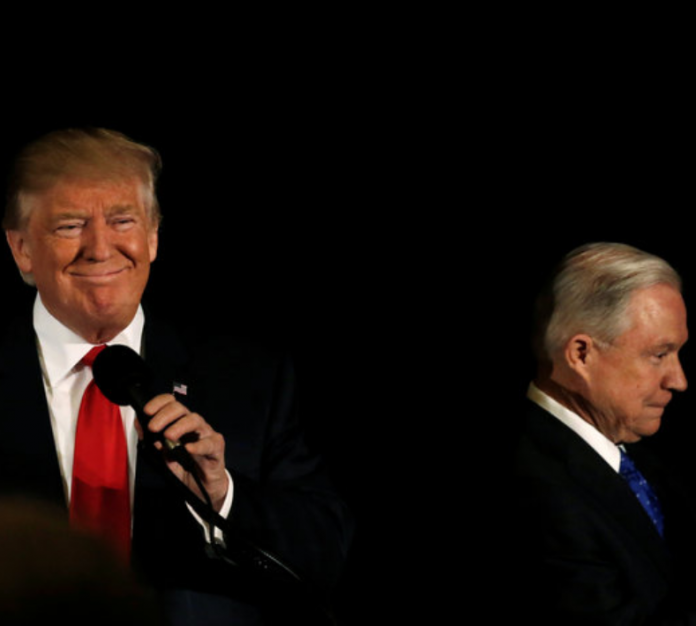 Earlier this morning, President Trump expressed regret regarding his decision to appoint Jeff Sessions as his Attorney General, according to The Hill. The Commander-in-Chief provided the aforementioned admission in a thread of tweets.
An Overview of the President's Latest Tweets
Tensions between President Trump and the Attorney General have existed almost since the inception of the latter's appointment. Sessions made headlines in 2017 when he promptly recused himself from matters regarding the infamous Russia investigation. While the Attorney General cited a conflict of interest, the President and his supporters didn't quite see things this way.
The Commander-in-Chief has criticized Sessions on multiple occasions. Roughly one year ago, Americans began to speculate about whether or not alleged "tension" between the two men would engender the firing of the Attorney General. Then, in July 2017, rumors began to spread that President Trump seriously regretted hiring Sessions and even pondered firing him.
It appears as though the validity of the preceding speculations is well intact. This morning, the President directly admitted that he now wishes that he'd appointed another individual to serve as Attorney General. The aforesaid confession can be viewed in the hereinafter tweets:
Rep.Trey Gowdy, "I don't think so, I think what the President is doing is expressing frustration that Attorney General Sessions should have shared these reasons for recusal before he took the job, not afterward. If I were the President and I picked someone to be the country's….

— Donald J. Trump (@realDonaldTrump) May 30, 2018
….chief law enforcement officer, and they told me later, 'oh by the way I'm not going to be able to participate in the most important case in the office, I would be frustrated too…and that's how I read that – Senator Sessions, why didn't you tell me before I picked you…..

— Donald J. Trump (@realDonaldTrump) May 30, 2018
….There are lots of really good lawyers in the country, he could have picked somebody else!" And I wish I did!

— Donald J. Trump (@realDonaldTrump) May 30, 2018
America's Thoughts Regarding AG Jeff Sessions
Over the past year, many right-leaning Americans have expressed concerns regarding the quality of Sessions' service as Attorney General. Similar to Trey Gowdy and President Trump, a considerable portion of conservatives have opined that Sessions should have explained his decision to recuse himself from the Russia probe prior to his hiring.
Other right-leaning individuals have condemned Sessions for what they view as his apparent lack of action against corruption within the government.
Democrats also vocalized their ire for the Attorney General after the latter announced the Trump administration's decision to prosecute individuals who illegally enter the U.S. Left-leaning Americans were greatly displeased to learn that individuals who unlawfully cross the border with children will then have those children separated from them.
The longevity of Sessions' position as Attorney General currently remains unknown. Despite President Trump's earlier tweets, he has not fired Jeff Sessions.
Updates will follow this report as new developments come to light.