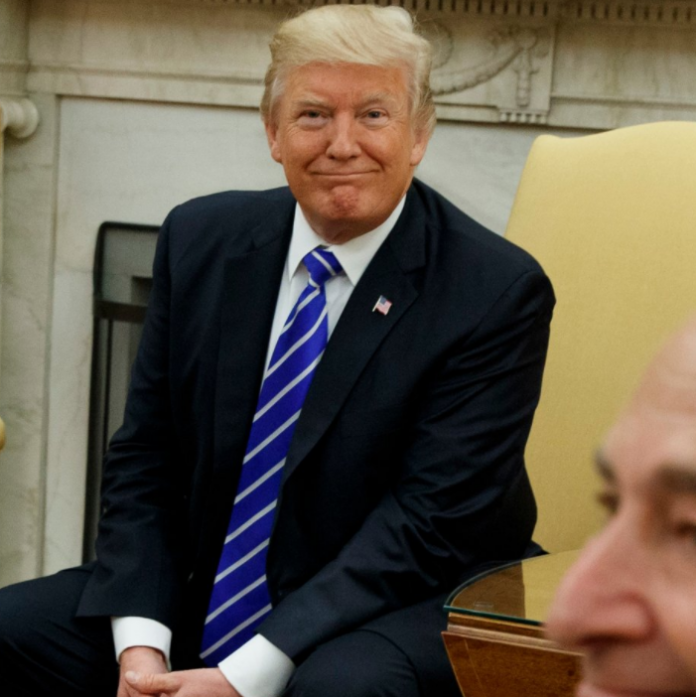 As covered by Newsmax, President Trump and Senate Minority Leader Chuck Schumer have once again clashed over immigration reform.
President Trump vs. Sen. Schumer on Immigration
Republican and Democratic leaders remain at odds over the fate of immigration reform in America. The majority of the GOP is striving towards border wall funding and a discontinuation of chain migration; Democrats, however, want to see a DACA deal for the approximate 800,000 young illegal immigrants, more commonly referred to as Dreamers.
As a matter of fact, the battle became so intense that a 72-hour government shutdown ensued earlier this month. Ultimately, the Democrats agreed to re-open the government, but have yet to reach a compromise with Republicans.
As liberal and conservative voters debate each other about the best solution regarding immigration, President Trump and Sen. Schumer are in conflict also. Earlier today, the President blasted the Senate Minority Leader via Twitter, opining that the latter was complicating a potential deal on DACA:
DACA has been made increasingly difficult by the fact that Cryin' Chuck Schumer took such a beating over the shutdown that he is unable to act on immigration!

— Donald J. Trump (@realDonaldTrump) January 26, 2018
The Commander-in-Chief echoed similar thoughts on Tuesday as well:
Cryin' Chuck Schumer fully understands, especially after his humiliating defeat, that if there is no Wall, there is no DACA. We must have safety and security, together with a strong Military, for our great people!

— Donald J. Trump (@realDonaldTrump) January 24, 2018
President Trump has repeatedly made strides to reach a deal on DACA. These strides include offering to protect DACA Dreamers in exchange for Democrats funding the border wall, and most recently, offering a path to citizenship for illegal Dreamers in exchange for the border wall. The Democrats have yet to accept an agreement where both sides get something they want.
Chuck Schumer did, however, respond to the President's immigration-related tweets:
As we have been urging him to do for months, the President has finally put pen to paper to show us where he stands on immigration. Unfortunately, this plan flies in the face of what most Americans believe. 1/2

— Chuck Schumer (@SenSchumer) January 26, 2018
While @realDonaldTrump finally acknowledged that the Dreamers should be allowed to stay here and become citizens, he uses them as a tool to tear apart our legal immigration system and adopt the wish list that anti-immigration hardliners have advocated for for years. 2/2

— Chuck Schumer (@SenSchumer) January 26, 2018
Americans' Take on the Immigration Battle
The fight over immigration reform has not shown any signs of ceasing in the foreseeable future. Americans have taken to social media, expressing their thoughts regarding the ongoing gridlock even after the government shutdown. As conservatives and liberals pointed the finger at each other, some people noted the importance of both sides working together. Moreover, Americans opined that a "my way or the highway" disposition is highly problematic in politics and government:
Being unwilling to work with the other side is why the U.S. government is shut down, as we speak. Sometimes you HAVE to compromise with the other side to get things done. If Democrats want a DACA deal, they can fund the President's border wall. This is fair for both sides.

— Gabrielle Seunagal (@ClassySnobbb) January 22, 2018
Almost everyone in government wants what they want exactly when they want it and that's not how things work. Learn how to play the game. The fact that we're dealing with a government shutdown proves that gridlock and lack of bipartisanship are serious political plights.

— Gabrielle Seunagal (@ClassySnobbb) January 22, 2018
Also:

– End Chain Migration
– End Visa Lottery
– End Sanctuary Cities

…then we'll talk 'DACA'.

— Uranium Covfefe (@zoochum) January 21, 2018
What Should Americans Expect Going Forward?
Despite the current situation, many lawmakers have not relented on finding a solution for immigration reform. Politico affirms that Republicans and Democrats are meeting over the next two weeks to come up with legislation that will attract the needed votes in the Senate.
North Carolina Republican Thom Tillis moreover expressed hopeful sentiments:
"Next week could be a very pivotal point in time where we start looking at a specific baseline bill and build on it."
Whether or not a bipartisan immigration resolution comes to fruition remains to be seen.