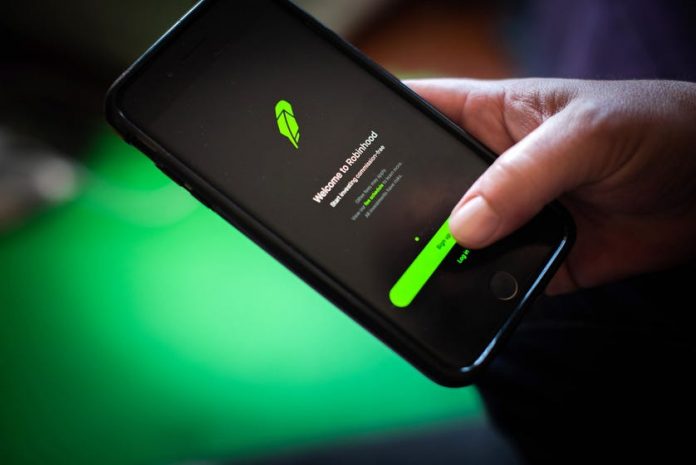 The stock price of Robinhood Markets (NASDAQ: HOOD) dropped significantly on Thursday after its existing shareholders disclosed that they are selling 97.9 million shares.
The online brokerage firm's stock price rallied to as much as $85 per share earlier this week after a disappointing initial public offering (IPO).  On Tuesday and Wednesday, Robinhood shares soared 24% and 50% respectively, primarily driven by Cathie Wood's Ark Investment Management's funds' decision to increase its stake in Robinhood.
The start of the options trading for Robinhood shares on Wednesday also helped pushed the online brokerage firm's stock price. HOOD was among the top stock mentioned by retail investors in Reddit's Wallstreetbets forum.
Ed Moya, a senior market analyst at Oanda Corp. told Bloomberg on Wednesday, "We've seen this movie before and this pump and dump of Robinhood will not end well for many traders." He added, "Robinhood's revenue streams will come into question once the government applies rules to payment of order flow."
Bloomberg Intelligence senior fintech industry analyst Julie Chariell shared a similar view. She said, "This spike in the share price doesn't change our view of shaky fundamentals and compounds the concern about order-flow payment revenue through 2022, after a 34% drop in 2Q and a crypto-trading bump that's unlikely to repeat in 3Q. Our analysis still points to a mid-$30 baseline share price."
On Thursday, Robinhood shareholders' disclosures to sell their stakes in the company resulted in a 27.59% decline in its stock price. HOOD shares closed at $50.97 each.
Some of the selling shareholders include New Enterprise Associates, Andreessen Horowitz, Iconiq Capital, Institutional Venture Partners, and Ribbit Capital.
Commenting on the movement of Robinhood's stock price, Ihor Dusaniwsky of S3 Partners told Yahoo Finance that short covering is not a factor. According to him, "Until HOOD stock borrow availability grows and the overall amount of HOOD shares shorted becomes relevant – buying and selling by long shareholders is the reason behind HOOD's price moves."
—————————–
Have a story you want USA Herald to cover? Submit a tip here and if we think it's newsworthy, we'll follow up on it.
Want to contribute a story? We also accept article submissions – check out our writer's guidelines here.