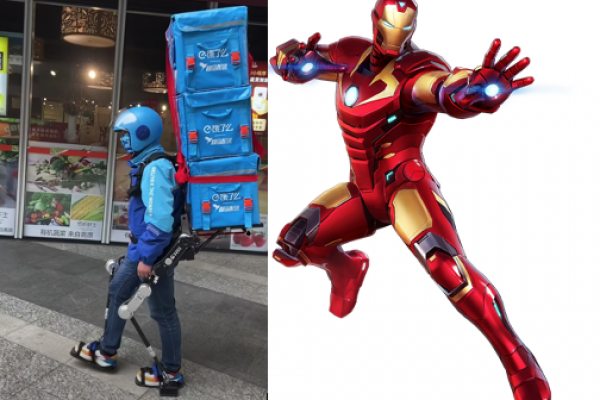 ULS Robotics, a Shanghai-based exoskeleton robot technology company is designing and developing exosuits that resemble the Marvel comic superhero, Iron Man. 
A new version of an exosuit was developed for U.S. automaker General Motors (NYSE: GM), so its factory workers will have enhanced capabilities and more protection in manufacturing plants.
In some ways, the pandemic has "speeded up" the innovation in the robotics industry. But the ULS exosuit has also gotten inspiration from Hollywood.
This exoskeleton looks a lot like Marvel Avenger's crime-fighting suit worn by Iron Man, a.k.a Tony Stark, on big-screens everywhere. And it does give whoever wears it some of  Iron Man's superpowers. The newly minted exosuit will make it easier to lift heavy objects while protecting from serious injuries.
Iron Man suit has a sensor 
The ULS version of the robotic exoskeleton definitely makes physical work easier and puts less stress on the person who is wearing it. But it also has some hidden features that may not be too popular with workers.
Some sensors monitor the worker's actions at all times while at the General Motors factory.  The sensor capability will indicate if the individual worker is "slacking off" during their shift. From the view of management, this will help with efficiency.
The Chinese company highly regards the sensor and claims that  "social responsibility" and "labor protection" will be the top priorities of the feature.  But from a US worker's perspective being physically tracked and monitored to make sure you are working hard may create some legal challenges downstream.
Exosuits are not a new concept 
The Robotics-as-a-Service (RaaS) industry is just coming of age. Engineers have been working on "wearable robots" since 1965 when the US Army and Navy gave General Electric the "go ahead" to develop the Hardiman, an oversized, full-body exoskeleton created to amplify its user's strength, up to 25 times.
Robotic suits became were developed with healthcare applications in around 2000. Some of the first uses include gait rehabilitation for spinal cord and stroke patients. 
In 2017, Gammon, a Hong Kong construction company, announced it planned to have created and purchase 10 "Assist Suit Exoskeletons". Gammon has been conducting construction site trials of the Assist exosuit,  developed by Panasonic subsidiary Atoun Inc. and Shun Hing Systems Integration Co. Ltd. 
GM isn't the first carmaker to use exoskeletons. In 2018, car giant Ford partnered with Richmond, California-based Ekso Bionics Holdings, Inc. (NASDAQ: EKSO) introduced its own version of an 'exosuit' which is in test-mode by workers at 15 of the firm's factories around the globe.
The Hyundai Motor Company, a South Korean automobile manufacturer also has plans to revolutionize its workforce. Hyundai has in-development the Vest Exoskeleton system aka the Vex which will support assembly-line workers tasked with overhead work. So far they have seen good results using the Vex for staff installing parts to the underside of a car (exhausts, brake tubes, etc).
ABI Research, a market foresight advisory firm projected that robotic exoskeleton revenues will reach over $5 billion, with hundreds of thousands of active exosuits skeletons being deployed in many industries by 2028.
—————————————-
Have a story you want USA Herald to cover? Submit a tip here and if we think it's newsworthy, we'll follow up on it.
Want to contribute a story? We also accept article submissions – check out our writer's guidelines here.