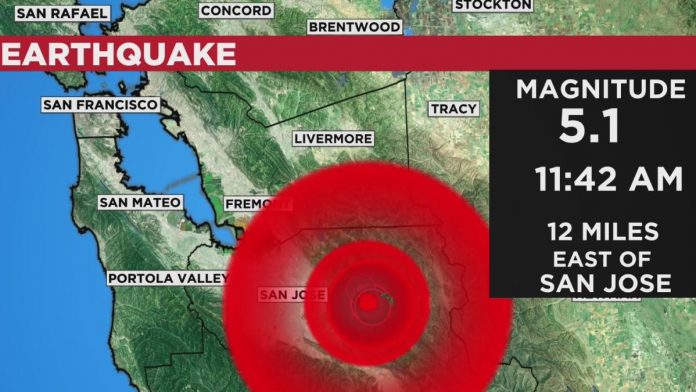 The San Francisco Bay Area was rattled by the biggest earthquake to strike the region since 2014.
The magnitude 5.1 earthquake hit Tuesday. And the U.S. Geological Survey "shake alert" was issued at 11:42 a.m. PST. Buildings were shaken, but no major damage has been reported. And there are no known injuries.
California's earthquake early warning system sent out a "shake alert" to an estimated 100,000 people. 
The California Governor's Office of Emergency Services or Cal OES reported that "Advance notice varied from two seconds for those very near the epicenter to 18 seconds for those in San Francisco." 
The quake's epicenter was located 12 miles east of San Jose and 40 miles southeast of downtown San Francisco. It resonated at a depth of about 4 miles underground. 
According to seismologist Dr. Lucy Jones the quake ran along the Calaveras fault. This is one of eight major fault lines in the region. And branches off the larger San Andreas Fault.
The Bay Area earthquake was on the Calaveras fault. The largest quake in the Bay Area since the 2014 Napa quake M6.0https://t.co/nbDx242Rmv

— Dr. Lucy Jones (@DrLucyJones) October 25, 2022