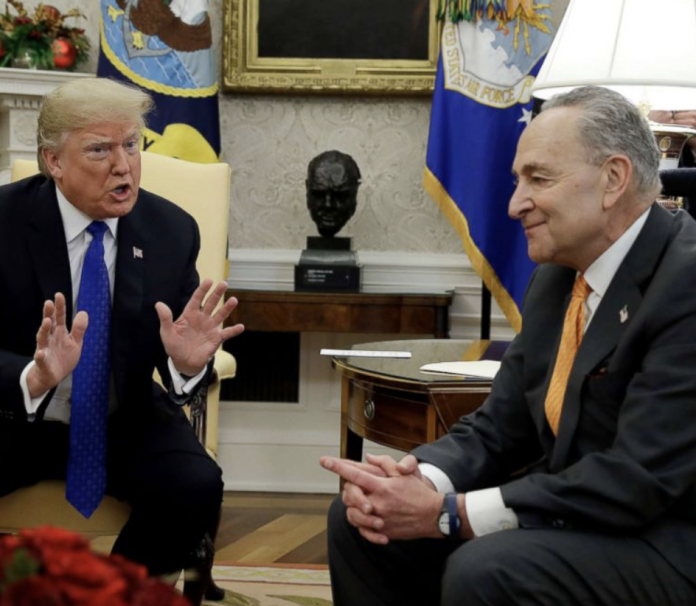 On Sunday, Senate Minority Leader Chuck Schumer blasted President Trump in an interview. Schumer's remarks come after a recent back-and-forth between himself, Pelosi, and Trump.
An Overview of Schumer's Statements
During yesterday's 'Meet the Press' interview, the Schumer expressed the following opinions regarding the president:
"Republicans just have to have the guts to tell President Trump he's off on the deep end here. All he's going to get with his temper tantrum is a shutdown. He will not get a wall."
The Senate Minority Leader then continued by criticizing President Trump for throwing a "temper tantrum." Schumer maintained that building a wall along the Southern border is "wrong" before stating that the president can push for the issue in 2019.
"If the president wants to debate the wall next year he can. I don't think he'll get it, but I don't think he should use innocent worker as hostages for his temper tantrum to sort of throw a bone to his base."
The Southern Border Wall and More
At this point, President Trump and Congressional Democrats are currently deadlocked in a battle over legislation. Last week, Schumer and Pelosi pushed the president to choose one of several funding bills to keep the government open. However, Trump is not going for it; in fact, the president stated that border security is paramount and that he will not accept a bill without the proper capital for his border wall. This prompted Schumer, Pelosi, and other Democrats to claim that Trump will bear responsibility if the government shuts down on December 21.